Kremlin Rising: Vladimir Putin's Russia and the End of Revolution, Updated Edition (Paperback)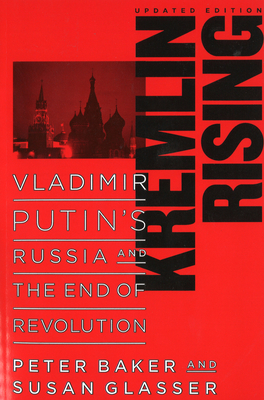 $29.95

Usually Ships in 3-5 Days
Description
---
A wide-ranging, comprehensive look at Russia and its leader . . . well written, well reported, and well organized.—The New York Times
With the 1991 collapse of the Soviet Union, Russia launched itself on a fitful transition to Western-style democracy and a market economy. But a decade later, Boris Yeltsin's handpicked successor—Vladimir Putin, a self-described childhood hooligan turned KGB officer—resolved to end the revolution. Kremlin Rising goes behind the scenes of contemporary Russia to offer a sobering picture of its leader and the direction in which the country is now headed.

As Moscow bureau chiefs for the Washington Post, Peter Baker and Susan Glasser witnessed firsthand the methodical campaign to reverse the post-Soviet revolution and transform Russia back into an authoritarian state. Their gripping narrative moves from Putin's unlikely rise through the key moments of his tenure. But the authors go beyond the politics to draw a moving and vivid portrait of the Russian people they encountered—both those who have prospered and those barely surviving—and show how the political flux has shaped these individuals' lives.

With shrewd reporting and unprecedented access to Putin's insiders, Kremlin Rising offers both unsettling revelations about Russia's leader and a compelling inside look at life in the land he is building. This book is an extraordinary contribution to our understanding of Russia and the debate about the country's uncertain future and its relationship with the United States.  
Praise For…
---
PRAISE FOR THE PREVIOUS EDITION
"A wide-ranging, comprehensive look at Russia and its leader . . . well written, well reported, and well organized."—New York Times
"Brilliant . . . as riveting as a novel in its depiction of modern Russia life...a powerful indictment of Putin's years as president."—
Washington Post
"Baker and Glasser possess the eye for detail, ear for the apt quote, and narrative drive that we expect from top-notch newspaper correspondents. . . . A mesmerizing account."—
Philadelphia Inquirer
"Here is the first great book on the new Russia, as fresh as this morning's headlines and great fun to read. Baker and Glasser have cracked the code—they explain Putin's Russia in terms any intelligent reader can understand."—Robert G. Kaiser, author of
Russia: The People and the Power
and
Why Gorbachev Happened
"[Baker and Glasser's] observations of Putin's rise reads with the drama of fiction and the authority of fact, and is key to understanding today's Russia."—
California Bookwatch