Voices from the Grave: Two Men's War in Ireland (Paperback)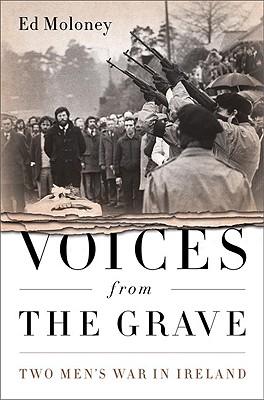 $25.99

Usually Ships in 3-5 Days
Description
---
A candid and brutal account of murder, abduction, and violence during the Troubles in Northern Ireland-from two men on opposite sides of the conflict.

After 'the long war' in Ireland came to an end, very few paramilitary leaders on either side spoke openly about their role in that bloody conflict, but in Voices from the Grave, two leading figures from opposing sides reveal their involvement in bombings, shootings and killings on one condition: that their stories were kept secret until after their deaths. In extensive interviews given to researchers from Boston College, Brendan Hughes and David Ervine spoke with astonishing openness about their turbulent, violent lives.

Hughes was a legend in the Republican movement. An 'operator', a gun-runner and mastermind of some of the most savage IRA violence of the Troubles, he was a friend and close ally of Gerry Adams and was by his side during the most brutal years of the conflict.

David Ervine was the most substantial political figure to emerge from the world of Loyalist paramilitaries. A former Ulster Volunteer Force bomber and confidante of its long-time leader Gusty Spence, Ervine helped steer Loyalism's gunmen towards peace, persuading the UVF's leaders to target IRA and Sinn Fein activists and push them down the road to a ceasefire.

Now their stories have been woven into a vivid narrative which provides compelling insight into a secret world and events long hidden from history.
About the Author
---
Ed Moloney is the author of A Secret History of the IRA and a former Northern Ireland editor of the Irish Times and Sunday Tribune. He lives in New York.
Praise For…
---
The first and more gripping half of
this fascinating, important book by Ed Moloney recreates Hughes's IRA career
through his later reflections on it.—Irish Times

This candid analysis of the
Troubles in Northern Ireland, as seen through the eyes of two men of violence,
is full of revelations ... The memories of both men are vivid, gossipy and
informed by an intense moral passion.—Daily Express

[A] moving new book, which traces
the conflict from [Hughes' and Erskine's] often diametrically opposed perspectives
... Moloney's book expertly interweaves the two men's recollections with a
detailed narrative of the conflict.—Telegraph

How do you document the history of
a conflict in which illegal organisations are among the central players? Voices
from the Grave, by the veteran Northern Ireland correspondent Ed Moloney, is an
intriguing attempt to answer that question.—Open Democracy