In Other Words, Leadership: How a Young Mother's Weekly Letters to Her Governor Helped Both Women Brave the First Pandemic Year (Hardcover)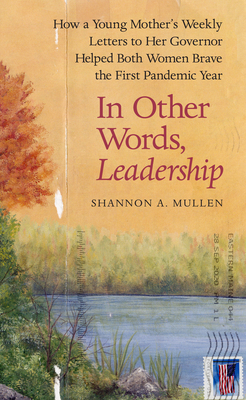 $29.95

Usually Ships in 3-5 Days
Description
---
"A remarkable story of work, worry, art, faith, community, life, and hope. An instant classic." — Heather Cox Richardson

"A heartfelt and moving story . . . Just as important, it's also a well-timed lesson in civics." — Richard Russo, author of Empire Falls

Two unforgettable women from opposite poles of power in Maine forge an uplifting bond through good, old-fashioned letter writing that helps them navigate the COVID crisis

Both women bring civility, grace, wit, and wisdom to the challenge of protecting those who depend on them — in other words, leadership

This trip to the "Vacationland" of Maine — where the state motto is I Lead — offers an inspiring tale of civility and purpose, of doing the right thing and not just surviving, but prevailing.

The first woman to serve as governor of Maine, Janet Mills, had been in office a year when COVID-19 reached the United States. The recently-widowed 72-year-old wrote in her journal there is "no playbook for a pandemic" as she imposed unprecedented restrictions on her state.

When early support for the governor's response curdled to rampant opposition, a young mother named Ashirah Knapp sent a letter of support from a remote homestead in the woods of Maine. Ashirah's handwritten dispatch detailed how the public health emergency was upending her family's life and livelihood, and she promised to keep writing "every week until we are through this time" to remind the governor how many Mainers supported her despite the disruption.

Ashirah's letters, with their simple wisdom and striking penmanship, stood out in a flood of correspondence Governor Mills was receiving that ranged in tone from appreciative to furious. They helped keep her grounded as she made wrenching, often unpopular choices.

Shannon A. Mullen weaves from these two women's letters and the governor's journal, which were never intended for publication, an intimate and compelling true story that is a celebration of civility and compassion in the face of rancor and of resolve in the face of adversity.
About the Author
---
Shannon A. Mullen is a journalist, author, screenwriter, playwright, podcast host and film producer, who has been telling stories in one form or another since childhood. She grew up in the White Mountains and Lakes Region of New Hampshire and studied pre-veterinary medicine in college after misinterpreting a love of James Herriot's books as an inclination toward animal husbandry. She then earned a graduate degree in broadcast journalism and spent more than a decade reporting for national programs on public radio, including Morning Edition, All Things Considered, Weekend Edition, and Marketplace while also producing written journalism that appeared in such outlets as The New Yorker and The Boston Globe Magazine. More recently she branched out into writing for the film industry and is currently developing multiple projects for the stage and screen.
Praise For…
---
"This is a remarkable book. The story of how Maine governor Janet Mills and constituent Ashirah Knapp, a homesteader with young children, supported each other from a distance through the storms of the coronavirus pandemic, it is far more than just a record of those unsettled years. It captures both history and humanity as it tells the life stories of the two women who faced an unprecedented crisis and how they set a course through it. It is a story of work, worry, art, faith, community, life, and hope. An instant classic."
--Heather Cox Richardson, author of Democracy Awakening

"The book... is an extraordinary piece of work. It tells a compelling story in an engaging manner but also brilliantly illuminates the larger question of the nature of leadership itself."
--US Senator Angus King of Maine

"It's as much a lesson in civics as it is civility in a time of turmoil."
--National Public Radio's Here & Now

"Mullen's well-researched ... enjoyable book is shining some well deserved light on the low-key governor whose level-headed leadership helped guide Maine out of the woods."
-- Scot Lehigh in The Boston Globe

"Mullen's earnest approach will keep readers engaged. Readers will find both governor and homesteader sturdy pandemic companions."
--Kirkus Reviews

"The book gives a fascinating glimpse into Mills' personal life and perspective as governor during the pandemic."
--The Daily Bulldog

"It's a book, I'd like to say, on one level, with all of us in it."
--Tappan Wilder, literary executor and nephew of Thornton Wilder

"A heartfelt and moving story . . . Just as important, it's also a well-timed lesson in civics."
--Richard Russo, author of Empire Falls

"This delightful book tells the compelling, intertwined stories of Governor Janet Mills and a young idealistic Mainer trying to do the right thing -- one for her state and the other for her family -- during a most difficult time, and it is a dramatic reminder that politicians need to do more than win elections and score points for their team; they need to lead."
--Howard Dean, former governor of Vermont

"A story of civility, compassion, and connection in the face of fear and division. It's also a powerful meditation on leadership, and the burdens that come with it."
--Holderness School Today

"In the book, author and NPR reporter Shannon A. Mullen shares the more than 40 handwritten letters Knapp sent to Mills, and reveals what life was like for Mills during that time."
--The Courier-Gazette

[A]n exhaustive account of the impact on the pandemic on public and private life."
--Down East Magazine

"Mills's journal entries offered a peek into the pressure of being responsible for the  health and safety of an entire state."
--Bangor Daily News