The Handy Forensic Science Answer Book: Reading Clues at the Crime Scene, Crime Lab and in Court (Handy Answer Books) (Paperback)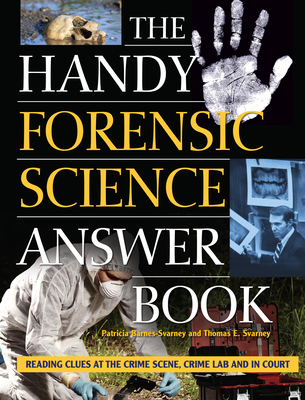 $21.95
Usually Ships in 3-5 Days
Description
---
A practical, accessible, and informative guide to the science of criminal investigations.
Covering the fundamentals, science, history, and analysis of clues, The Handy Forensic Science Answer Book: Reading Clues at the Crime Scene, Crime Lab and in Court provides detailed information on crime scene investigations, techniques, laboratory finding, the latest research, and controversies. It looks at the science of law enforcement, how evidence is gathered, processed, analyzed, and viewed in the courtroom, and more. From the cause, manner, time of a death, and autopsies to blood, toxicology, DNA typing, fingerprints, ballistics, tool marks, tread impressions, and trace evidence, it takes the reader through the many sides of a death investigation. Arson, accidents, computer crimes, criminal profiling, and much, much more are also addressed.
The Handy Forensic Science Answer Book gives real-world examples and looks at what Hollywood gets right and wrong. It provides the history of the science, and it introduces the scientists behind breakthroughs. An easy-to-use and informative reference, it brings the complexity of a criminal investigation into focus and provides well-researched answers to over 950 common questions, such as ...
What is the difference between cause of death and manner of death? How did a person's skull fit into criminal evidence in the early 1800s? When were fingerprints first used to identify a criminal? How is the approximate time of death of a crime scene victim determined? What is forensic serology? What is the National Missing and Unidentified Persons System? Can a forensics expert look at skeletal remains and tell whether the person was obese? How can a simple knot analyzed in the crime lab be used as evidence? Can fingerprints be permanently changed or destroyed? How fast does a bullet travel? How was a chemical analysis of ink important in the conviction of Martha Stewart? What types of data are often retrieved from a crime scene cellphone? Can analyses similar to those used in forensics be used to uncover doping in athletics? What is the Personality Assessment Inventory? What are some motives that cause an arsonist to start a fire? What state no longer allows bite marks as admissible evidence in a trial? What is the Innocence Project? Why are eyewitness accounts not always reliable? Who was "Jack the Ripper"?
Providing the facts, stats, history, and science, The Handy Forensic Science Answer Book answers intriguing questions about criminal investigations. This informative book also includes a helpful bibliography, glossary of terms, and an extensive index, adding to its usefulness.
About the Author
---
Thomas E. Svarney is a scientist who has written extensively about the natural world. His books, with Patricia Barnes-Svarney, include Visible Ink Press' The Handy Anatomy Answer Book, The Handy Biology Answer Book, and The Handy Nutrition Answer Book, and he is also the author of Skies of Fury: Weather Weirdness around the World and The Oryx Guide to Natural History.