Living with Kidney Stones: Complete Guide to Risk Factors, Symptoms & Treatment Options (Paperback)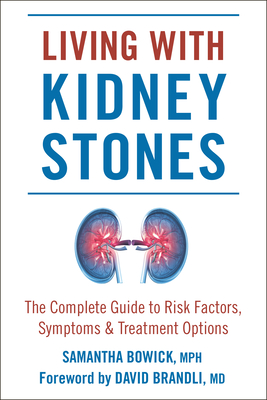 $15.00
Coming Soon - Available for Pre-Order Now
Description
---
Living with Kidney Stones is a health resource for anyone who has ever suffered with the pain of kidney stones.

Each year more than half a million people go to emergency rooms for kidney stones and the pain they cause can be excruciating. Living with Kidney Stones offers the most up-to-date and comprehensive information on this illness and includes first-hand account from someone who has experienced it. Living with Kidney Stones also includes expert advice from urologists, other doctors and researchers tackling this health issue, including tips on recognizing common symptoms, best ways to decrease risk, and options for effective treatment plans.
About the Author
---
Samantha Bowick has a Master of Public Health degree from Liberty University. She received a Bachelor of Science degree in Health Care Administration at Columbia Southern University. She is devoted to using her education and experiences to advocate for women who suffer with endometriosis. She currently lives in Aiken, South Carolina. She is the author of Living with Endometriosis and Living with Alpha-1 Antitrypsin Deficiency.

David Brandli, MD, is a urologist working at the Lowcountry Urology Clinics of Charleston SC. He received his Medical Degree from Penn State University and completed residency training in General Surgery and Urology at Indiana University in Indianapolis. He has been board certified in Urology since 2005. Although he practices General Urology, he has special interests in Oncology and Kidney Stone Disease. David has published more than 20 scientific abstracts and peer-reviewed journal articles and made scientific presentations and lectures on various topics in Urology. He is active in several clinical committees in area hospitals, and is a member of the American Urologic Association, the American Association of Clinical Urologists, the America Endourologic Association, and the American Society of Laparoscopic Surgeons.