All the Kremlin's Men: Inside the Court of Vladimir Putin (Paperback)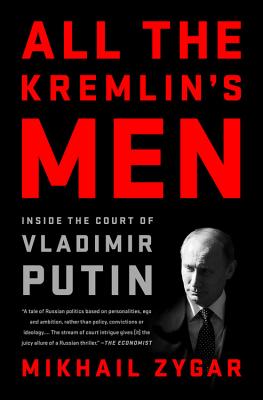 $19.99

Usually Ships in 3-5 Days
Description
---
An extraordinary behind-the-scenes portrait of the court of Vladimir Putin, the oligarchs that surround it, and the many moods of modern Russia that reads like a "real House of Cards"(Lev Lurie).

All the Kremlin's Men is a gripping narrative of an accidental king and a court out of control. Based on an unprecedented series of interviews with Vladimir Putin's inner circle, this book presents a radically different view of power and politics in Russia. The image of Putin as a strongman is dissolved. In its place is a weary figurehead buffeted -- if not controlled -- by the men who at once advise and deceive him.

The regional governors and bureaucratic leaders are immovable objects, far more powerful in their fiefdoms than the president himself. So are the gatekeepers-those officials who guard the pathways to power-on whom Putin depends as much as they rely on him. The tenuous edifice is filled with all of the intrigue and plotting of a Medici court, as enemies of the state are invented and wars begun to justify personal gains, internal rivalries, or one faction's biased advantage.

A bestseller in Russia, All the Kremlin's Men is a shocking revisionist portrait of the Putin era and a dazzling reconstruction of the machinations of courtiers running riot.
About the Author
---
Mikhail Zygar is the former editor in chief of the only independent TV station in Russia, TV Rain (Dozhd). Previously, he worked for Newsweek Russia and the business daily Kommersant. Zygar was awarded the 2014 International Press Freedom Award by the Committee to Protect Journalists.
Praise For…
---
"To those who believe that Vladimir Putin's rise to power followed an inexorable master plan of control, this book will come as a shock. Mikhail Zygar, editor-in-chief of Russia's only independent TV station, says everything that happens in Putin's Russia is tactics: 'a real-time response to external stimuli devoid of an ultimate objective.' Based on interviews with members of Putin's inner circle and with key actors in Russia today, Zygar charts the evolution of Vladimir Putin from a fan of the West to the West's nemesis, from reformer to what Zygar calls a 'hurt and introverted outcast.' Fifteen years after Putin came to power, many still are trying to answer the question 'Who is Mr. Putin?' Mikhail Zygar has some answers." --Jill Dougherty, Former CNN Anchor and Foreign Affairs Correspondent

"Mikhail Zygar is one of the heroes of Putin's Russia, courageously trying to practice honest journalism in a country where honesty increasingly has become an occupational hazard. He is uniquely qualified to take on the subject of Putin and his entourage, and he presents the story of the past 15 years in a way that punctures myths and opens our eyes to events we only thought we understood. He does so with inside reporting, insightful analysis and a cheerful refusal to treat pomposity with respect. --Fred Hiatt, Washington Post

"[All the Kremlin's Men] is absolutely riveting. I have the sense that Mikhail Zygar has gone more profoundly than any other into the deep roots of the Putin Empire. The work is truly brilliant!" --David Andelman, Editor and Publisher, World Policy Journal

"Mikhail Zygar's voice remains one of the most important ones in the rapidly deteriorating media freedom environment in Russia. As a reporter and later as editor-in-chief of Dozhd-TV, Mikhail has been a true advocate for quality journalism and high ethical standards. Anyone interested in journalism and free media should listen to his insights and vast experience. --Dunja Mijatovic, OSCE Representative on the Freedom of the Media

"[All the Kremlin's Men] is based on profound research, dozens and hundreds of interviews, and many years of attentive and thoughtful observation. All of that is deep within, and what the reader sees immediately is a 230-page story, bright, well-written, excellent text, truly an exciting piece of non-fiction adventure." --Galina Yuzefovich, literary critic, Meduza

"I read this book in one night, truly a page-turner. It leaves a profoundly scary impression: that's real 'House of Cards.'"--Lev Lurie, writer and historian

"Outside observers, especially those in the West, chronically and routinely overestimate Vladimir Putin's control over the system he runs. We look for grand strategy instead of immediate, tactical considerations. We look for a single, organizing mind instead of a hive of voices competing for his attention. Mikhail Zygar, one of Russia's smartest and best-sourced young journalists, provides a necessary corrective with his new book, All the Kremlin's Men: A Court History of 21st Century Russia. Mr. Zygar, editor of the independent news station TV Rain, obtained rare access to Kremlin insiders, piecing together a portrait of a 'collective Vladimir Putin' that is both less calculating-and more dangerous-than the singular strongman of our imagination."--Ellen Barry, New York Times

"Mikhail Zygar is a rare Russian journalist, objective, refusing to follow the herd, still holding the Putin era to account despite the obvious dangers. Knowing he could always follow many colleagues and activists into jail, hospital, or into the graveyard, Zygar persists nonetheless. He gets behind the propaganda machine in a unique series of in-depth off-the-record interviews with leading Russian politicians, policy makers and oligarchs including some from Putin's inner circle. A must read if anyone is to understand what Putin's game is." --Christiane Amanpour, CNN Chief International Correspondent

"...fascinating...[Mikhail] Zygar takes us deep into the secret world of the courtiers whose task is to shape Mr. Putin's access to information so that he makes the "right" decision..." --The Wall Street Journal

"Of the many accounts written about the Russian president, Mikhail Zygar's insider's guide to his court is one of the most compelling...The book charts not just the machinations of the various players...It also acutely traces the evolution of Putin's mind." --The Guardian

"A tale of Russian politics based on personalities, ego and ambition, rather than policy, convictions or ideology...The stream of court intrigue gives 'All the Kremlin's Men' the juicy allure of a Russian thriller." --The Economist