The Sister: North Korea's Kim Yo Jong, the Most Dangerous Woman in the World (Hardcover)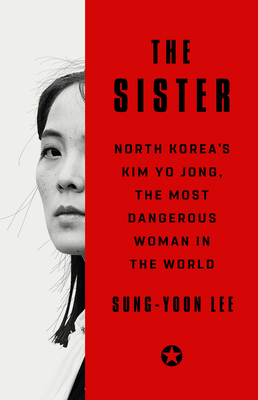 $30.00

Usually Ships in 3-5 Days
Description
---
This first book on Kim Jong Un's increasingly powerful sister, tapped to be his successor, offers jaw-dropping insights into the latest generation of North Korea's secretive and murderous dynasty.

The first woman ever to issue the threat of a nuclear weapons strike is not even officially a head of state. Kim Yo Jong is the sister of North Korea's Supreme Leader Kim Jong Un and, as their murderous regime's chief propagandist, internal administrator, and foreign policymaker, she is the most powerful woman in North Korean history. Cruel but charming, she threatens and insults foreign leaders with sardonic wit, issuing proclamations and denunciations in her own name, a first for any woman in the Korean royal family.  She memorably called the South Korean Defense Minister "a senseless and scum-like guy" before going on to promise South Korea "a miserable fate little short of total destruction and ruin". A princess by birth with great expectations for her macabre kingdom, she was brought up to believe it is her mission to reunite North Korea with the South or die trying. She's ruthless and incredibly dangerous.
 
The Sister, written by Sung-Yoon Lee, a scholar of Korean and East Asian studies and a specialist on North Korea, is a fascinating, authoritative account of the mysterious world of North Korea and its ruling dynasty—a family whose lust for power entails the brutal repression of civilians, a missile program that can reach the continental US, and the constant threat of global havoc.
About the Author
---
Sung-Yoon Lee is a Fellow at the Woodrow Wilson International Center for Scholars. Previously, he taught Korean history at Tufts University. He has written on the politics of the Korean peninsula for numerous publications including The New York Times, Wall Street Journal and The Washington Post. He has testified as an expert witness at the U.S. House of Representatives Foreign Affairs Committee hearings on North Korea policy and has advised senior leaders, including the President of the United States. 
Praise For…
---
"With great literary flair, Sung-Yoon Lee delivers not only an incisive portrayal of North Korea's 'princess' Kim Yo Jong, but also a chilling portrait of a family dynasty that has oppressed and exploited North Korea for generation after generation. The Sister is essential reading to understand the nature of the world's most tyrannical and reclusive regime." —Max Boot, Washington Post columnist and senior fellow, Council on Foreign Relations

"A riveting read… North Korea is a closed society, where reliable information is next to impossible to obtain. In researching Ms. Kim and her leading role in her brother's inner circle, Mr. Lee has performed a remarkable feat."—Wall Street Journal

"Riveting, unique, policy-relevant narrative of the first order. A must-read for all policymakers. Lee sees through the North Korean regime's antics, maskirovka, and propaganda—much of it the work of Kim Yo Jong—as does no other. A work of penetrating analysis, caustic wit, and elegant prose."—James Stavridis, PhD; admiral, US Navy (ret); former supreme allied commander, NATO; vice chair of global affairs, the Carlyle Group; and chair of the Board of Trustees, the Rockefeller Foundation

"Part North Korean history, part close reading of the dictatorship's decisions, appearances and statements that pulls back the curtain on a little-known figure at the heart of one family's quest for dominance on the Korean Peninsula… Lee's book is a timely, important treatment of a dangerous leader, and a sincere warning not to underestimate her."—The New York Times Book Review

"In The Sister, Lee offers a trenchant analysis of the Kim Jong Un regime and his sister's role in propagating their cult of personality. He employs his deep knowledge of the subject and his fine literary skills to tell a tale that is both fascinating and disturbing. The Sister is a gripping story of great policy relevance."—Dr. Sue Mi Terry, director of the Asia program, Woodrow Wilson International Center for Scholars; former senior North Korea analyst, CIA; former National Security Council director for Korea, Japan, and Oceanic Affairs

"Dr. Lee was instrumental in our lawsuit against North Korea for the kidnapping, torture, and extrajudicial killing of our son, Otto. During the trial in a federal court in DC, the entire courtroom and the press were mesmerized by his deep knowledge of the concentration camp known as North Korea. Dr. Lee is able to explain North Korea's behavior in a way that compels action. Now, he has put his impressive skills to weave a gripping tale on the inner workings of the criminal organization known as North Korea and the sister's sinister role in this scheme."—Fred and Cindy Warmbier, parents of Otto and plaintiffs in Warmbier v. Democratic People's Republic of Korea (2018)

"As a former top North Korea official in charge of the supreme leader's slush funds, I have intimate knowledge of the corrupt and very opaque workings of the Kim dynasty. The Sister is revelatory. It is a most rare and enlightening analysis of the Kim regime's deceptions and perversions and Kim Yo Jong's role in this existential game. Current and future policymakers will find this book a treasure trove, an essential guidebook on policy-relevant history, mistaken assumptions of the past, and lessons for the future. The Sister is a most astute, acerbic, and, at times, even amusing exposé of the pathological ways of the North Korean dynasty."—Ri Jong Ho, former chairman, Korea Kum-Kang Economic Development Group (KKG) of the National Defense Commission, DPRK; former president of the Korea Dae-Hung General Trading Corporation of the Korean Workers' Party; and recipient of the Hero of Labour Award, the highest civilian honor in North Korea

"Lee deftly skewers the misperceptions of Kim Yo Jong to insightfully assess her longstanding and powerful role. Comprehensive, provocative, and eloquently written. Should be required reading for policymakers and pundits trying to decipher the North Korean Game of Thrones."—Bruce Klingner, senior research fellow, Asian Studies Center, the Heritage Foundation; former deputy division chief for Korea, CIA; and former North Korea analyst, Defense Intelligence Agency

"A stellar analyst and wordsmith, Lee combines his profound knowledge of North Korean culture, history, and regime dynamics to write a must-read page-turner for North Korea scholars, students, and policymakers alike."—Greg Scarlatoiu, executive director, Committee for Human Rights in North Korea (HRNK)

"It reads like a thriller novel and informs like the best textbook. Even if you're not obsessed with the world's most dangerous and dysfunctional family, you will want to read The Sister."—Gordon Chang, author of Nuclear Showdown

"Lee's impeccably arranged sentences are not only a joy to read, but they apply his native proficiency, his historical depth, and his extraordinary perceptiveness to reveal the danger and the horror that Kim Yo Jong represents." —Joshua Stanton, principal drafter of US sanctions legislations on North Korea

"With the precision of a surgeon's scalpel, Lee cuts open the Kim regime's seven-decades-old cloak to reveal its grotesque nature, forbidden secrets, and intentions for the future. The Sister is a pregnant history that casts a long light on tomorrow—a stupendous achievement."—Jihyun Park, author of The Hard Road Out

"In explaining the rise to power of Kim Yo Jong, Lee displays his deep knowledge and understanding of North Korea's extreme, ruthless, and self-obsessed dynastic autocracy, the creators and rulers of a de-facto nuclear-weapon state. Not a reassuring story."—Sir John Scarlett, former chief, Secret Intelligence Service (MI6) and cofounder, SC Strategy

"Agree or disagree with Lee. This powerful take on who runs the show in North Korea is trenchant, vehement, and informed. Lee's explication of the political dance between Pyongyang, Seoul, and Washington reads like Shakespeare brushed with William F. Buckley and the 1980s TV hit Dynasty. A must-read for policy practitioners, Hollywood writers, and Martha's Vineyard A-listers alike: meet The Sister."—Alexis Dudden, professor of history, UConn, and author of The Opening and Closing of Japan, 1850–2020

"In The Sister, Lee presents an engrossing account of the enigmatic Kim Yo Jong, sister of North Korea's leader Kim Jong Un. Through a masterful narrative, Lee delves into her influence on the regime, unveiling the pivotal role she has played in dictating North Korea's policies toward both the United States and South Korea. As tensions rise and diplomatic challenges unfold, Kim Yo Jong proves to be a force to be reckoned with, leaving no doubt as to her significance in the Hermit Kingdom's future. This captivating, well-researched portrait of one of the world's most secretive and powerful women offers a rare glimpse into the heart of North Korea's leadership and the complexities of its political landscape."—Bradley Hope, author of The Rebel and the Kingdom and cofounder, Project Brazen

"The Sister is a literary tour de force on the 'first sister' of North Korea—the insolent and mystifying Kim Yo Jong—and the criminal underpinnings of the Kim family dynasty. Lee's analysis exposes the venality, deception, and atrocities ingrained in the Kim regimes' survival strategy, and Kim Yo Jong's instrumental part in perpetuating her family's longevity and notoriety. The book bears testament to Lee as the few remaining bastions of truth about the realities of the Kim dictatorship."—Dr. Soo Kim, former North Korea analyst, CIA

"A long-time academic and analyst of North Korea who has been 'repeatedly pummelled by the tag-team duo of reality and history,' Lee's The Sister contains extremely precise details, sharp and skeptical observations, and uniquely nuanced analysis of Kim Yo Jong's rise to power against the backdrop of an increasingly dangerous North Korea. A must-read for anyone interested in the latest developments of North Korea written by a top North Korea expert."—Dr. Jieun Baek, Harvard University, author of North Korea's Hidden Revolution

"Lee has written a fascinating and superb biography of the most powerful woman in the world, North Korea's Kim Yo Jong, the sister of its Chairman Kim Jong Un. In The Sister, Lee describes, in meticulous and chilling detail the childhood and recent years, as well as rise to supreme power, of this ruthless, cunning, brilliant, and often-misunderstood female leader. Observers of North Korea and those desiring a closer and more intimate look into the dynamics, power, symbolism, and leadership psychology of North Korea's 'Mt. Paektu lineage' would be wise to start with this singular biography by Lee." —Dr. Kenneth Dekleva, senior fellow, George H.W. Bush Foundation for US-China Relations; professor of psychiatry, UT, Southwestern Medical Center, Dallas; and former minister-counselor and regional medical officer/psychiatrist, US Department of State

"This is a stunningly good book. I look forward to everything Lee writes—everything. His understanding of the North Korean regime is almost uncanny. His writing is spellbinding. His subject—Madame Kim Yo Jong, feared confidante and propagandist in chief to her brother Kim Jong Un, Pyongyang's hereditary dictator—is fascinating in its own right. But Lee's account of her life and rise to power offers an unforgettable tutorial in how North Korea actually works—and why it poses a growing nuclear threat to South Korea, America, and the international community." —Dr. Nicholas Eberstadt, Henry Wendt Chair in Political Economy, American Enterprise Institute; and author of The North Korean Economy

"Lee is perfectly situated to provide a detailed examination of Kim Yo Jong ... She is, quite simply, an extremely dangerous person... It is a worrying but unavoidable conclusion... [The Sister] is a vivid portrait of a ruthless, egocentric woman driven by an unrelenting sense of entitlement and destiny."—Kirkus

"Combining an insightful, thorough analysis of the geopolitics with a firm command on policy implications, Dr. Lee comprehensively dissects what's at stake upon the volatile North Korean succession."—Suki Kim, Investigative Journalist and New York Times best-selling author of Without You, There is No Us

"A detailed, insightful study…Lee is excellent on the regime's reliance on suppressing, distorting and manipulating information… His vivid account of surreal, intractable negotiations with the Kim siblings underlines The Sister's central insight: Kim Yo-jong is very much part of the family."—The Guardian

"Thought provoking."—The Korea Times

"Mr Lee's book is not just a profile of a central figure in what is arguably the world's most brutal dictatorship, but also of her clan. By showing how the family operates, The Sister offers insights into the workings of the only hereditary monarchy to style itself as communist; a regime willing to let millions starve while it spends billions on weapons." —The Economist

 "[Ex]plosive...a ground-breaking and revealing new book."—The Daily Mail

"Renowned East Asia and Korea professor and analyst Lee unravels the labyrinthine paths and tortured logic that drives the country's reigning dynasty, testing the possibility of the feared and reviled Kim Yo Jong assuming future leadership as her brother's successor…. [She] is to be taken very, very seriously."—Booklist, starred review

"A powerful and well-researched commentary on the brutality of the Kim family dynasty and the unique – and dangerous – role of Kim Yo Jong… The book is rich with details of Kim Yo Jong's prominent role with the outside world… It's a fascinating read."—Cipher Brief

"The Sister is a fascinating study that will alarm, mesmerize, and horrify in equal measure."—Shelf Awareness

"Lee paints an extraordinarily well-researched picture of the second-most consequential figure in the Kim Jong Un regime. He provides an invaluable resource in understanding one of the most intriguing and least-known figures in today's North Korea."—Stephen E. Biegun, United States special representative for North Korea (2018–2021) and deputy secretary of state (2021–2022)