Where the Heart Is (Hardcover)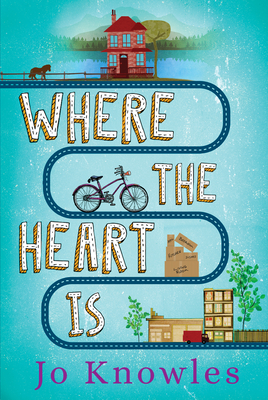 $17.99
Email or call for price
Exciting News: All preordered copies of Jo Knowles' brand new book Where the Heart Is will be signed by the author! If you want your copy to be personalized, please leave a note in the Comments field when placing your order.
*Please allow a few extra days for initial shipment - books will be signed at the author's Launch Party Event on Wednesday, April 3rd*
Description
---
If home is where the heart is, what would happen if you lost it? Compassion and humor infuse the story of a family caught in financial crisis and a girl struggling to form her own identity.

It's the first day of summer and Rachel's thirteenth birthday. She can't wait to head to the lake with her best friend, Micah. But as summer unfolds, every day seems to get more complicated. Her "fun" new job taking care of the neighbors' farm animals quickly becomes a challenge, whether she's being pecked by chickens or having to dodge a charging pig at feeding time. At home, her parents are more worried about money than usual, and their arguments over bills intensify. Fortunately, Rachel can count on Micah to help her cope with all the stress. But Micah seems to want their relationship to go beyond friendship, and though Rachel almost wishes for that, too, she can't force herself to feel "that way" about him. In fact, she isn't sure she can feel that way about any boy — or what that means. With all the heart of her award-winning novel See You At Harry's, Jo Knowles brings us the story of a girl who must discover where her heart is and what that means for her future.
About the Author
---
Jo Knowles is the award-winning author of the young adult novels Lessons from a Dead Girl, Jumping Off Swings, and Read Between the Lines, among others. She has also written two middle-grade novels: Still a Work in Progress and See You at Harry's. She lives in Vermont.
Praise For…
---
Knowles handles Rachel's evolving feelings about her sexual orientation with particular nuance: Rachel's concerns center on her own comfort and sense of self rather than worries about how her identity might be perceived, offering readers an exemplar that is compelling and fresh. The world is foisting a great deal on Rachel in a singular moment, and her responses are believable and affecting. This is one of those rare novels that feels less like a constructed story and more like a momentary glimpse into a real young life— genuine, stirring, and raw.
—The Horn Book (starred review)

Each story thread has its own significance and weight, and when woven in with the others and dotted with moments of joy and humor creates a fully realized portrait of a girl trying to figure out how to be a teenager when all she really wants is to stay a kid...This is bittersweet in its realism, but readers can leave with the knowledge that the lessons of the summer have equipped Rachel to do more than just manage and to flourish into a confident, self-assured young woman.
—Bulletin of the Center for Children's Books (starred review)

In this bittersweet coming-of-age novel rooted in some of the author's own experiences, Knowles (Still a Work in Progress) paints a down-to-earth picture of an adolescent girl who is saddled with too many responsibilities. Rachel's anger and frustration over not being able to control her situation is as vividly expressed as her growing maturity and courage.
—Publishers Weekly

A gently told story about tough transitions, family and sibling love and stress, and evolving friendships...Even as Jo Knowles tackles some tough issues, especially income insecurity and loss of home, she keeps the tone quiet, warm, detailed, and often funny, leaving the reader space to work out questions and problems along with Rachel and her loved ones. A good read for fans of Rebecca Stead and Jeanne Birdsall.
—School Library Journal

Knowles deals with specific yet relatable upheavals in a young teenager's life with nuance and understanding. Rachel's emotional turbulence, as well as her growth and change, are realistically presented. The story offers no easy answers, but plenty of hope, heart, and love. A sensitive, character- driven story about change.
—Booklist Online

This coming of age story doesn't shy away from the tough topic of a family facing financial hardship, but it's mainly a gentle and sensitive look at a young girl forced to deal with the stress of change and growing up that will resonate with many readers.
—B&N Kids Blog