Save Your Life and Drop the Cancer Sticks!: How I quit smoking in 3 weeks and So Can You! (Paperback)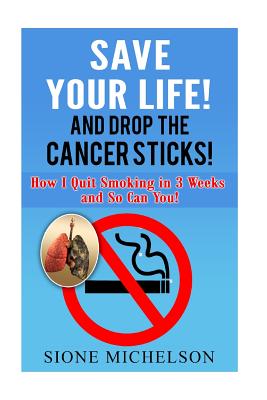 $7.99

Usually Ships in 3-5 Days
Description
---
Save Your Life and Quit Smoking Today Download this book today for just $7.99 for a limited time, normally priced at $11.99 or get the Kindle copy Free if you buy the print version Do you want to add years to your life, well you can do this by droping the cancer sticks?
The simple strategies in this book will help you gradually stop smoking. Skip all the gimmicks and fluff from other quit smoking products and finally learn what it actually takes to quit smoking for good. In this book, Sione will give you proven strategies that are tried and tested that helped him quit smoking in 3 weeks and so can you?
How many times have you tried to quit? If you are like Sione, then you've probably tried several hundred times. Sione knows what works and what doesn't when it comes to quitting smoking and in this book he will break your bad habits by giving you tips on how you can develop newer healthier habits. This process will help you put down tobacco for good
This book also shows you how to disrupt your limiting beliefs in order to quit smoking such as "Getting fat after quitiing" or "once a smoker always a smoker". Sione will show you how to use a support team and inspirational videos and audios in order to stay on track.
In this book you'll find out the secrets to staying in shape while quitting and Sione even lays out a detailed checklist of tasks you can do everyday that's proven to help you finally quit smoking for good
You Don't Need to Quit Cold Turkey With This Book
Don't worry about quitting cold turkey. As a former smoker, Sione understands how hard it is to go without nicotine. He understands the devastating effects quitting cold turkey can have on the body. This is why Sione has put together a gradual step down process in this book to where you can slowly and pleasantly withdrawl from your dependency on nicotine
Within these pages you'll find the way to avoid those points of weakness that make you go from quitting smoking to driving back to the store for another pack of cigarrettes. It's time for you to start thinking about how you want to live the rest of your life. Do you want to add years to your life or do you want to potentially spend your later years suffering from a terrible disease caused by smoking? Buy this book today and make today and new healthy journey for you.
This is what you'll learn inside
Why You Need to Quit

About Sione

Replace A Bad Habit With A Good one

Eliminate One Cancer stick At A Time

The Ninja Checklist To Quitting Smoking

Reprogram Your Mind To Quit Smoking Now

Inspirational Voices of Reason

My Honest Opinion on Quit Smoking Products

Water Down The Urge

Find A Support Network

Be Aware of Your Own Mortality

How to Fail Forward

Stop Listening to Your Negative Inner Voice

How To Stay In Shape While Quitting Smoking

And Much More

Are You Ready To Finally Gain Your Health and Vitality Back?
Download now and start that process today
All you have to do is scroll up and buy now.
About the Author
---
"Proven Health Strategies for the Price of two slices of Pizza" It shouldn't be expensive for you to get your health and vitality back. Many health programs out there on the market today promise dreamy results for extremely exorbitant prices. These programs tend to hide the real truth behind lots of fluff and they fail to give people simple action steps to become healthy. What you need (and what Sione provides) is a pluthera of detailed and SIMPLE health strategies--each designed to help you solve a specific health obstacle. Sione writes his books for people of all ages, shapes and sizes: From people that are on their way towards better health and people that are already healthy but just need a little extra motivation. He doesn't promise great results without work. But always delievers step-by-step strategies you can immediately implement to start improving your health today. In his spare time, Sione likes to play basketball, travel and enjoy time with family and friends. Sione also enjoys studying and implementing personal development strategies that help enrich his life as well as the people he comes in contact with.