The Wind in the Willows - Large Print: Classics in Large Print (Large Print / Paperback)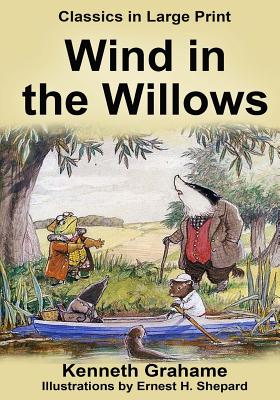 $15.75

Usually Ships in 3-5 Days
Other Books in Series
This is book number 2 in the Classics in Large Print series.
Description
---
CLASSICS IN LARGE PRINT Do you love reading and re-reading the most popular stories ever written? But are they hard to read because of your being visually impaired or fading eyesight? You.
About the Author
---
Kenneth Grahame was born in Edinburgh on March 8, 1859. Shortly after Grahame's fifth birthday, his mother died of scarlet fever. His father fell into alcoholism and Grahame and his siblings moved in with their grandmother. The Grahame children had little contact with their father after that time. Grahame attended St. Edward's in Oxford and did well at school, achieving awards in Latin, theology and rugby. Despite his intellectual capabilities, Grahame lacked the money to study at Oxford. He took a job at the Bank of England, and moved to London. In London, he became involved in local literary circles and started publishing essays in small publications. He then branched out to publish in literary magazines. Several of the essays he wrote were about a family of orphaned children called The Olympians. In 1895, 18 of these short stories were published in a collection called The Golden Age. A second collection, Dream Days, was published in 1898. These were popular at the time. He met Elspeth Thompson. They married in 1899. The Grahames had a son named Alastair, who was born with several disabilities. When Alastair was a young boy, his father invented bedtime stories about a toad to soothe him to sleep. Within a few years, Grahame had written down his stories in letters to his son, adding the characters of Mole, Rat and Badger. He then compiled his stories into The Wind in the Willows. The book was published in October 1908 and was a commercial success. A prominent fan of the book, United States President Theodore Roosevelt, requested to meet Grahame during a 1910 visit to Oxford. Grahame's literary success brought some financial security. Grahame's professional success did not carry over into his personal life. His marriage was unhappy, and his son, Alastair struggled in school and was ejected from several before enrolling in Oxford. In May of 1920, in his second year at Oxford, Alastair took a walk along the railway. He was found dead on the tracks the following morning. Although official records described the death as accidental, many signs pointed to suicide. Following the funeral, the Grahames took a long vacation in Italy. Grahame wrote very little following Alastair's death. In 1924, the Grahames moved to Oxford, where they lived out the remainder of their days. Kenneth Grahame died on July 6, 1932, and was buried in the same grave as his son.