Everyday War: The Conflict Over Donbas, Ukraine (Paperback)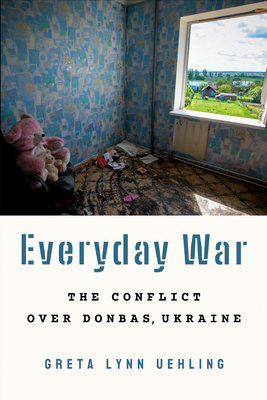 $31.95

Usually Ships in 3-5 Days
Description
---
Everyday War provides an accessible lens through which to understand what noncombatant civilians go through in a country at war. What goes through the mind of a mother who must send her child to school across a minefield or the men who belong to groups of volunteer body collectors? In Ukraine, such questions have been part of the daily calculus of life. Greta Uehling engages with the lives of ordinary people living in and around the armed conflict over Donbas that began in 2014 and shows how conventional understandings of war are incomplete.
In Ukraine, landscapes filled with death and destruction prompted attentiveness to human vulnerabilities and the cultivation of everyday, interpersonal peace. Uehling explores a constellation of social practices where ethics of care were in operation. People were also drawn into the conflict in an everyday form of war that included provisioning fighters with military equipment they purchased themselves, smuggling insulin, and cutting ties to former friends. Each chapter considers a different site where care can produce interpersonal peace or its antipode, everyday war.
Bridging the fields of political geography, international relations, peace and conflict studies, and anthropology, Everyday War considers where peace can be cultivated at an everyday level.
About the Author
---
Greta Lynn Uehling is a lecturer at the University of Michigan. She is the author of Beyond Memory. Follow her on Twitter @uehlingumiched1.