Mass Murder in California's Empty Quarter: A Tale of Tribal Treachery at the Cedarville Rancheria (Hardcover)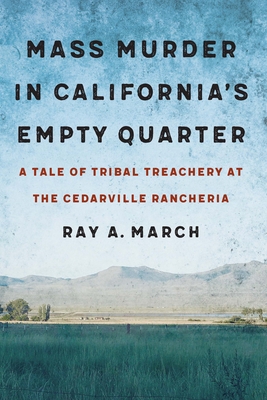 $27.95

Usually Ships in 3-5 Days
Description
---
Mass Murder in California's Empty Quarter exposes a story of mass murder, a community's racism, and tribal treachery in a small Paiute tribe. On February 20, 2014, an unseasonably warm winter day for the little agriculture town of Alturas, California, Cherie Rhoades walked into the Cedarville Rancheria's Paiute tribal offices. In the space of nine minutes she killed four people and wounded two others using two 9mm semiautomatic handguns. In that time she slayed half of her immediate family and became only the second woman, and the first Native American woman, to commit mass murder in the United States.

Ray A. March threads the story through the afternoon of the murders and explores the complex circumstances that led to it, including conditions of extreme economic disparity, privations resulting from tribal disenrollment, ineptness at the Bureau of Indian Affairs, and family dysfunction coupled with a possible undiagnosed mental illness.

This account of the tragic murders and the deplorable conditions leading up to them shed light on the formidable challenges Native Americans face in the twenty-first century as they strive to govern themselves under the guise of U.S.-sanctioned sovereignty.

 
About the Author
---
Ray A. March is an independent journalist whose articles and essays have appeared in Time, the New York Times, the San Francisco Chronicle, and elsewhere. He is the author of several books, including Alabama Bound: Forty-Five Years inside a Prison System and A River in Ruin: The Story of the Carmel River (Nebraska, 2012).

 
 
Praise For…
---
"This portrait of a flawed woman driven to commit a heinous crime makes for fascinating reading."—Publishers Weekly

"March's thoughtful and sensitive investigation of the systemic issues leading to the violence at Cedarville Rancheria effectively illustrates the complex challenges facing tribal communities as they navigate the processes of self-determination, all while dealing with the residual effects of generational trauma. This study will be of great value to readers interested in contemporary Native affairs, regional histories, histories of racism and violence, and the issues of gun violence in the United States."—Andrew Shaler, California History

"[Mass Murder in California's Empty Quarter] gives a glimpse into the familial and political conflicts that Indigenous individuals face as they attempt to deal with trauma passed down from generation to generation, while simultaneously try to govern themselves under a flawed U.S. system."—Martha Nakagawa, Rafu Shipmo: LA Japanese Daily News

"March's book sounds as a much-needed wakeup call for anybody concerned about the state and future of Indigenous peoples in America."—galandabroadman.com

"Ray A. March has written not just a compelling account of an otherwise little-noted mass murder on a Native American reservation in Northern California, he has made those brutal murders the starting point for a sensitive, complex, and thoroughly researched study of the politics and sociology of Native American life in twenty-first-century small-town America. In the course of telling this remarkable story, March investigates with a keen and knowing eye the underlying causes of the murders and their many ramifications."—Stanley Cloud, author and former Washington bureau chief of Time magazine

"In Mass Murder in California's Empty Quarter Ray A. March brings careful research and considerable storytelling abilities to bear on a chilling story. The result is both a page-turner and a thoughtful consideration of how history, racism, identity, and bureaucratic failures fed the conflicts."—Jon Davis, founder and former director of the MFA program at the Institute of American Indian Arts