It's About Wellness, Naturally: Dr. Finker Reveals the Healing Benefits of Naturopathic Medicine (Paperback)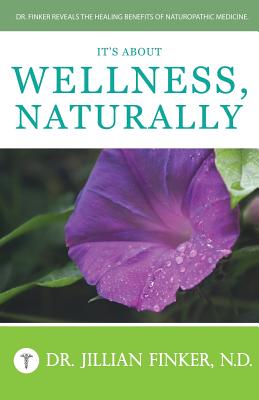 $7.95
Usually Ships in 3-5 Days
Description
---
It's About Wellness, Naturally
by Naturopathic Doctor and Certified Nutrition Specialist, Dr. Jillian Finker, offers a simplified explanation about how natural medicine can help heal various health problems. In an easy to read style, Dr. Finker expertly describes the ins and outs of naturopathic medicine. She reveals how this system of healing is beneficial to almost anyone that discovers it.
Learn various healing concepts that she has used successfully with her own patients. She shares how this proven medical system can potentially help many illnesses including: anxiety, insomnia, asthma, fatigue, infertility, gastrointestinal complaints, weight problems, and thyroid issues.
Determine how to find the best natural medicine, how to choose a naturopathic doctor, and begin the journey towards complete health and well-being.
It's About Wellness, Naturally is a must read if you ever had any interest in seeing an alternative doctor.
About the Author
---
Dr. Jillian Finker, a licensed naturopathic doctor, has over ten years of experience in natural medicine. She is a graduate of Southwest College of Naturopathic Medicine in Tempe, Arizona, and is a member of the Association of American Naturopathic Physicians, the New York Association of Naturopathic Physicians, Life Extensions and the Oncology Association of Naturopathic Physicians. Dr. Finker has been selected as the best Alternative Doctor on Long Island for 2011, 2012 and 2013. She has been on various television programs, radio shows and she is a frequent lecturer nationwide. She was the technical editor for Boosting Your Immunity for Dummies and is in the process of editing other health books. Her work has been highlighted in First for Women's magazine several times, along with other major journals and publications. (www.drfinker.com)