China Bound: John Swire & Sons and Its World, 1816 – 1980 (Hardcover)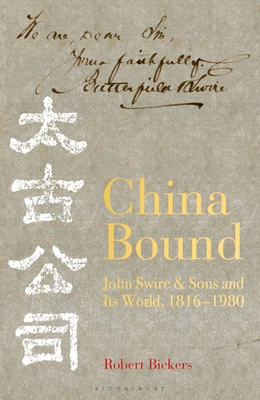 $40.00
Email or call for price
Description
---
An unrivaled and comprehensive look at the 200-year story of Swire, a highly diversified, global group of companies including Cathay Pacific, with a rich and colorful history.

The Swire Group, started by John Swire in 1816, had its beginnings as a modest Liverpool import-export company, focused mainly on the textile trade. John Swire's sons, John Samuel (1825-1898) and William Hudson (1830-1884), took the firm overseas and it was John Samuel Swire in particular whose entrepreneurial instincts would be at the root of the firm's successes in years to come.

In 1861, John Swire & Sons Limited began to trade with China. In 1866, in partnership with R.S. Butterfield, the firm of Butterfield & Swire was established in Shanghai. Four years later, a branch of Butterfield & Swire was opened in Hong Kong.

In 1953, four years after the establishment of the People's Republic of China, Butterfield & Swire closed all of its China offices. In 1974, Butterfield & Swire in Hong Kong was renamed John Swire & Sons (H.K.) Ltd. Today, Swire is a highly diversified group of companies--covering shipping, airlines (including Cathay Pacific), luxury hotels and agribusiness--and continues to operate out of Hong Kong, with a formal group HQ in London.

This new book provides a detailed and intimate history of the company, researched and written by Robert Bickers, a Professor of History at the University of Bristol.
About the Author
---
Robert Bickers is Professor of History at Bristol University. His books include the prize-winning Empire Made Me: An Englishman Adrift in Shanghai, The Scramble for China: Foreign Devils in the Qing Empire, 1832-1914, and Out of China: How the Chinese Ended the Era of Foreign Domination, which was shortlisted for the 2018 Wolfson Prize for History.
Praise For…
---
"No-one writes the history of the British presence in China like Robert Bickers. In China Bound he tells the remarkable story, spread across two tumultuous centuries, of a family-owned company from Liverpool that made itself part of Asia. This is a tale of family, of empire, and of networks." —John M. Carroll, Professor of History, The University of Hong Kong and author of 'Edge of Empires: Chines Elites and British Colonials in Hong Kong'

"This is the story of one of the major British companies in Asia. But it is so much more than that - it is a sweeping tale of how empire was formed, operated at its height, and then had to reinvent itself. Robert Bickers uses a wide range of materials, many of them never before seen by scholars, to tell a story of how Swire created new trade routes and connections in Asia, and how Asia in turn was shaped by the commerce of empire, before having to deal with war and the impact of the Chinese Communist revolution in 1949. Told with the style and verve that would suit the most buccaneering Taipan, this is a powerful and important history that will make its mark at a time when Britain's relationship with Asia is taking new and unpredictable turns." —Rana Mitter, author of 'China's War with Japan, 1937-1945: The Struggle for Survival'