PrepU for Porth's Essentials of Pathophysiology (Miscellaneous print)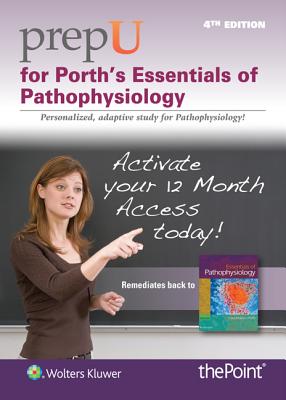 Description
---
Adaptive Learning | Powered by PrepU provides students with the practice they want and need – at their own pace and based on their level of understanding. The adaptive nature of PrepU means that each student's experience is personalized and different – so their study time is more effective and efficient, and their retention of course material and success rates increase. Instructors will have a better window into their students' performance – at the individual and class level – so they can identify at-risk students earlier in the course and monitor each student's progress, strengths, and weaknesses.

PrepU is a formative assessment, adaptive learning system – geared to help students learn and retain course material as they progress, It provides a way for students and instructors to adjust teaching and learning as they are happening.
This version of PrepU for Porth's Essentials of Pathophysiology is for 12 months of access through the purchase of a unique code redeemed via thePoint (http://thepoint.lww.com). That code will be shipped to you via U.S. mail within 3 to 7 days of your online purchase.