The Crime Book: Big Ideas Simply Explained (DK Big Ideas) (Hardcover)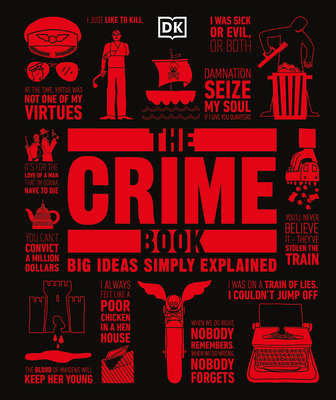 $25.00

Usually Ships in 3-5 Days
Description
---
Learn about the world's most notorious cons, heists, and murders in The Crime Book.

Part of the fascinating Big Ideas series, this book tackles tricky topics and themes in a simple and easy to follow format. Learn about Crime in this overview guide to the subject, great for novices looking to find out more and true crime experts wishing to refresh their knowledge alike! The Crime Book brings a fresh and vibrant take on the topic through eye-catching graphics and diagrams to immerse yourself in. 

This captivating book will broaden your understanding of Crime, with:

- More than 100 ground-breaking accounts of true crime
- Packed with facts, charts, timelines and graphs to help explain core concepts
- A visual approach to big subjects with striking illustrations and graphics throughout
- Easy to follow text makes topics accessible for people at any level of understanding

The Crime Book is a captivating introduction to the world's most notorious criminal cases, aimed at adults with an interest in the subject and students wanting to gain more of an overview. Here you'll discover more than 100 sinister accounts of true crime through exciting text and bold graphics.

Your Crime Questions, Simply Explained

This fresh new guide explores the most twisted accounts of crime and criminology in history. If you thought it was difficult to learn about the most prolific wrongdoings and the criminals behind them, The Crime Book presents key information in an easy to follow layout. From outlaws like pirates, bandits, and highwaymen, to serial killers and the cyber criminals of the 21st century, discover the worst felonies through fantastic mind maps and step-by-step summaries.

The Big Ideas Series

With millions of copies sold worldwide, The Crime Book is part of the award-winning Big Ideas series from DK. The series uses striking graphics along with engaging writing, making big topics easy to understand.
About the Author
---
Foreword writer and consultant Cathy Scott is a Los Angeles Times best-selling author, and an established crime writer and investigative journalist for The New York Times and Reuters. Best known for writing The Killing of Tupac Shakur and The Murder of Biggie Smalls, she has written extensively about street gangs and organized crime, including mob daughter Susan Berman in Murder of a Mafia Daughter, and drug kingpin "Freeway" Rick Ross.
Praise For…
---
"[The Big Ideas Simply Explained books] are beautifully illustrated with shadow-like cartoons that break down even the most difficult concepts so they are easier to grasp. These step-by-step diagrams are an incredibly clever learning device to include, especially for visual learners." — Examiner.com
"The visual layout promotes browsing with illustrations, pull quotes, and simple mind maps to explain concepts quickly." — Library Journal
"Accessible guide to the great thinkers." — School Library Journal
"[I]f you dig anything crime related this is for you." — CrimeSpree Magazine