The Ocean: The Ultimate Handbook of Nautical Knowledge (Hardcover)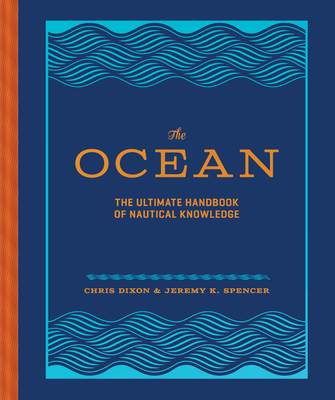 $40.00

Usually Ships in 3-5 Days
Description
---
A beautifully illustrated and completely unique nautical book. This celebration of all things ocean features an unprecedented wealth of 21st-century know-how and storytelling.
Informative, inspirational, and incredibly entertaining,
The Ocean
is the definitive guide to the world's greatest nature treasure and playground.
Filled with more than 200 enlightening and evocative illustrations, this beautiful ocean book features short-subject deep dives on topics like science, sailing, kayaking, surfing, diving, survival, and much more. In addition to thousands of hours of original reporting, authors Chris Dixon and Jeremy K. Spencer also gathered wisdom from dozens of experts, athletes, scientists, explorers, and more to craft an authoritative and captivating guide to all activities involving the sea.
The ultimate gift book for sailors, fishers, surfers, beachcombers, and ocean lovers everywhere.
UNIQUE AMONG OCEAN BOOKS: From fishing the beach to righting a sailboat, surviving jellyfish to saving our reefs, planning a dive to surfing the waves,
The Ocean
is rich with how-to advice and instruction to inspire experienced seafarers and ocean novices alike.
CAPTIVATING BOOK OF KNOWLEDGE: Divided into sections on Boating, Surfing, Science, Survival, Scuba and Snorkeling, and Fishing, this ultimate ocean compendium is beautifully illustrated and features expert consultation and entertaining asides about the sea.
A GIFT TO TREASURE: This handsomely packaged volume is the go-to guide for anyone captivated by the wonder, power, and mystery of the ocean.
Perfect for:
People who live in coastal areas and have a passion for fishing, sailing, surfing, or boating
Thoughtful and practical gift book for anyone with an abiding love for the ocean
Housewarming or host/hostess gift or bon voyage present for seagoing adventurers
Readers of books like The Brilliant Abyss, SAS Survival Handbook, The History of Surfing, Barbarian Days: A Surfing Life, TheDangerous Book for Boys, and The Daring Books for Girls
About the Author
---
Chris Dixon is the author of Ghost Wave and a contributing author of Surfing: 1778–Today, The Big Juice,, and New York Times Best Seller The Southerner's Handbook. His writing has appeared in The New York Times, The Washington Post, Outside, Popular Mechanics, Garden & Gun, and Men's Health, among others. The founding online editor of Surfer, he once spent a year documenting the life of singer-songwriter Jimmy Buffett. He lives in Charleston, South Carolina, with his family.

Jeremy K. Spencer is an award-winning writer and editor whose work has appeared in publications like Men's Journal, Wired, Vice, The Millions, and Outside, where he was a longtime senior editor. He has edited books for all of the "Big Five" publishing houses, including multiple New York Times Best Sellers. As a creative director, he's helped dozens of top global brands tell their stories. A native of Memphis, he now lives with his family in Portland, Oregon.
Praise For…
---
"...The Ocean
by Chris Dixon and Jeremy Spencer put to paper what it means to respect the ocean and all that happens in it and around it. From the personalities that frame what we think and say about the ocean to the techniques to perform at a high level upon the water to the challenge of doing our part to protect this body that we cherish. As you embrace your love for the ocean, this book and its contributors share their vast experience to help you build upon your overall appreciation for the place that so many of us call home. The Ocean."
- The American Sailing Association
"This impressive volume is a treasure chest of information, inspiration, and wisdom-rich with actual how-to advice as well as with great stories from renowned experts of the sea."
- Vanish