The Life Plan: How Any Man Can Achieve Lasting Health, Great Sex, and a Stronger, Leaner Body (Paperback)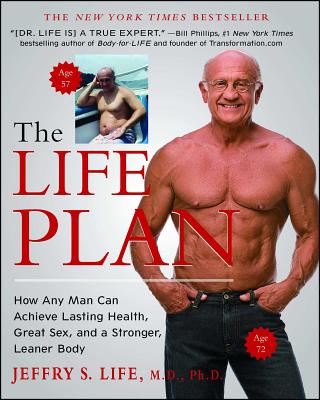 $18.00

Usually Ships in 3-5 Days
Description
---
The groundbreaking, New York Times bestselling program for men, combining exercise, nutrition, vitamins, and hormones, proven to halt and even reverse the aging process.

Look and feel twenty years younger with the Life Plan!

Back in 1998, Dr. Life was sixty years old and a stereotype of the aging man: he was overweight with a noticeable gut and little muscle tone. His low libido was ruining his self-esteem. He felt tired all the time, yet no amount of sleep made him feel well rested. It wasn't until a cardiologist read him the riot act that he began to make the critical diet and lifestyle adjustments that led him to look and feel younger than ever. More important, he's been able to maintain his physique and his health more than fourteen years later.

In this revolutionary book, Jeffry Life demonstrates how you too can enjoy an active, clear-headed, sexually satisfying, vigorous, and health-filled life, while avoiding late-onset diabetes, heart disease, and other common illnesses and complaints of aging. Any man can master The Life Plan, no matter what shape he may be in. It offers:

• A multidisciplinary exercise plan designed to improve heart health and increase muscle mass.

• A delicious, easy-to-follow diet, including rules for dining out and recipes.

• A complete guide to nutrient supplements that can help men stop—and possibly reverse—the aging process.

• An honest assessment of male hormone replacement therapies based on the most up-to-date research.

• Advice for getting the best possible care from your doctor.

• And much more!

For men seeking to make over their bodies and turn back the clock, The Life Plan delivers the keys to a fitter body, a stronger immune system, and a richer, fuller life.
About the Author
---
Jeffry S. Life, M.D., Ph.D., is the bestselling author of The Life Plan and Mastering the Life Plan. At a vibrant seventy-five years old, he is in great shape, still practicing medicine, and at the top of the healthy aging field. In 2012 Men's Fitness magazine chose him as one of the top twenty-five fittest men in the world. He has been featured in The New York Times, Los Angeles Times, and Esquire magazine, as well as national TV shows, including The Doctors, Steve Harvey, and The Dr. Phil Show. His private practice is located in Las Vegas, Nevada, where he lives. His website is DrLife.com.
Praise For…
---
"Dr. Jeff Life lives and breathes a paradigm of health, vitality, and fitness—men everywhere would be smart to follow his example." —Anthony Robbins, Entrepreneur, Author & Peak Performance Strategist




"Having known Dr. Life for over a decade I've been continually inspired by his ongoing transformation. He's showing that remarkable physical fitness and vitality can be achieved at any age. Long live Life!" ——Bill Phillips, author of the #1 New York Times Best Seller Body-for-LIFE, Founder of Transformation.com



"Since I've been under the care of Dr. Life, my goal of living a productive life until at least 100 seems possible. My overall health has improved dramatically and I look and feel many years younger. "
—Rick Barry, member of the Basketball Hall of Fame and NBA All-time Top 50 Player




"Exercise and nutrition are the paths to feeling and looking good. Dr. Life's book explains his methods in easy-to-understand terms, and his physique and mind proves that it works" —Lawrence A. Golding, PhD., FACSM, Exercise Physiologist, University of Nevada, Las Vegas



"Achieving and maintaining balance is the primary goal in my life. That is why I follow the expertise of Dr. Life." —Cesar Milan, TV Star and Dog Behaviorist



"Dr. Life's book is life-changing...a fabulous read" —Suzanne Somers, New York Times bestselling author of Sexy Forever



"Read on and change your life." —Steve Miller, former NFL player and former Director of Global Sports Marketing, Nike, Inc.