The Conqueror: A Novel of William the Conqueror, the Bastard Son Who Overpowered a Kingdom and the Woman Who Melted His Heart (Historical Romances #7) (Paperback)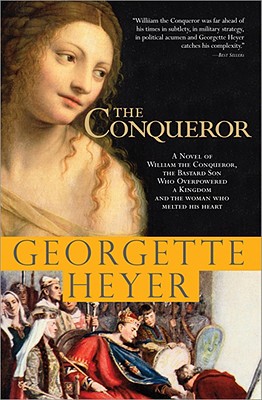 $19.99

Usually Ships in 3-5 Days
Other Books in Series
This is book number 7 in the Historical Romances series.
Description
---
The true story of the bastard son who made himself a king and the woman who melted his heart.
The stirring history of William the Conqueror, Duke of Normandy, who invaded England and became the King. His victory, concluded at the Battle of Hastings in 1066, is known as the Norman Conquest.
Known for her exhaustive research and ability to bring past eras to life, bestselling author Georgette Heyer tells the story of William the Conqueror, who became King of England in 1066, and his queen Matilda, the high-born noblewoman who at first scornfully spurned him. William was an illegitimate child of a nobleman, who won his dukedom through force of will, and went on to bring European feudalism to England, along with a program of building and fortification that included the building of the Tower of London.
The historical novel includes Heyer's brilliant period language and her perfect grasp of the details of the day - clothing, armor, weapons, and food - making for a fascinating and blood-stirring read.
Bonus reading group guide available inside.
From the moment when the infant grasped his father's sword with a strength unusual in one so young, William showed himself a leader among men.
The Conqueror grew out of an incredible amount of historical research into the way of life, the way of speech, the way of thought, and feeling, and praying in the Eleventh Century. Without sacrificing the flow of her plot, Miss Heyer conveys an understanding of this period, more authentic as well as more colorful than many historical tomes. It is obvious in reading this novel that Georgette Heyer is indeed a mistress of her craft. -- Best Sellers
Perfect craftsmanship. -- The New York Times Book Review
Georgette Heyer achieves what the rest of us only aspire to. -- Katie Fforde
My favourite historical novelist. -- Margaret Drabble
About the Author
---
The late Georgette Heyer was a very private woman. Her historical novels have charmed and delighted millions of readers for decades, though she rarely reached out to the public to discuss her works or private life. It is known that she was born in Wimbledon in August 1902, and her first novel, The Black Moth, was published in 1921. Heyer published 56 books over the next 53 years, until her death from lung cancer in 1974. Heyer's large volume of works included Regency romances, mysteries and historical fiction. Known also as the Queen of Regency romance, Heyer was legendary for her research, historical accuracy and her extraordinary plots and characterizations. Her last book, My Lord John, was published posthumously in 1975. She was married to George Ronald Rougier, a mining engineer, and they had one son together, Richard.