Left to Tell: Discovering God Amidst the Rwandan Holocaust (Paperback)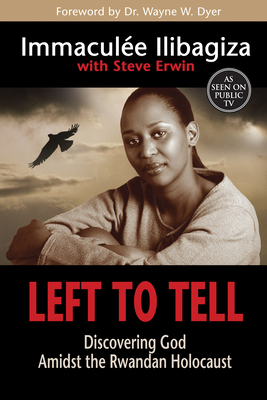 $15.99

Usually Ships in 3-5 Days
Description
---
Immaculee Ilibagiza grew up in a country she loved, surrounded by a family she cherished. But in 1994 her idyllic world was ripped apart as Rwanda descended into a bloody genocide. Immaculee's family was brutally murdered during a killing spree that lasted three months and claimed the lives of nearly a million Rwandans.

Incredibly, Immaculee survived the slaughter. For 91 days, she and seven other women huddled silently together in the cramped bathroom of a local pastor while hundreds of machete-wielding killers hunted for them. It was during those endless hours of unspeakable terror that Immaculee discovered the power of prayer, eventually shedding her fear of death and forging a profound and lasting relationship with God.

She emerged from her bathroom hideout having discovered the meaning of truly unconditional love—a love so strong she was able seek out and forgive her family's killers. The triumphant story of this remarkable young woman's journey through the darkness of genocide will inspire anyone whose life has been touched by fear, suffering, and loss.
About the Author
---
Immaculée Ilibagiza lost most of her family during the 1994 Rwandan genocide. Four years later, she immigrated to the United States and began working at the United Nations in New York City. She now devotes herself full-time to public speaking and writing books that share her message of how faith and forgiveness can heal hearts and change the world. In 2007 she established the Left to Tell Charitable Fund, which helps support Rwandan orphans, and was awarded the Mahatma Gandhi International Award for Reconciliation and Peace.Steve Erwin is a New York Times best-selling author and award-winning journalist. He has co-authored seven books and is currently working his second novel. He lives in New York City with his wife, journalist and author Natasha Stoynoff.
Praise For…
---
"I am humbled by the extraordinary spirituality that shines throughout Immaculée Ilibagiza's story of terror, endurance, healing, and forgiveness. As a Rwandan, I am proud that we can look beyond the misconceived differences that resulted in the murder of so many of our children, men, and women in 1994. Immaculée's account of genocide survival is truly astonishing. It gives us hope of overcoming the divisions deliberately created by those with self-serving agendas and no thought for humanity. Everyone should read this story—survivors as well as perpetrators. I hope that all can experience Immaculée's profound spiritual transformation and be inspired to work for a united and lasting nation."
— Jeannette Kagame, First Lady of the Republic of Rwanda
 
"In 1994, Rwandan native Ilibagiza was [24] years old and home from college to spend Easter with her devout Catholic family when the death of Rwanda's Hutu president sparked a three-month slaughter of [more than] one million ethnic Tutsis. She survived by hiding in a Hutu pastor's tiny bathroom with seven other starving women for 91 cramped, terrifying days. This searing first-hand account of Ilibagiza's experience cuts two ways: her description of the evil that was perpetrated, including the brutal murders of her family members, is soul-numbingly devastating, yet the story of her unquenchable faith and connection to God throughout the ordeal uplifts and inspires. This book is a precious addition to the literature that tries to make sense of humankind's seemingly bottomless depravity and counterbalancing hope in an all-powerful, loving God."
— Publishers Weekly
 
"Left to Tell is for anyone who is weary of the predictable 'eye for an eye, tooth for a tooth' trance most of the world suffers from. Immaculée Ilibagiza breaks that spell by bravely quelling the storm within, and contacting a force so powerful that it allows her to calm the storm 'without,' and more important, to forgive the 'unforgivable.' Her story is an inspiration to anyone who is at odds with a brother, a nation, or themselves."
— Judith Garten, teacher and counselor of The 50/50Work and a child of the WWII Holocaust
 
"This book has renewed my faith in God and the Universe in a profound and real way that has changed me forever."
— Christiane Northrup, M.D., the author of Women's Bodies, Women's Wisdom
 
"An inspirational, life-altering book. Once you turn that first page, you're changed forever. You will never forget Immaculée and what it means to embrace life in the darkest of times." 
— Cindy Pearlman, New York Times Syndicate
 
"Immaculée Ilibagiza's gift of forgiveness to the perpetrators of the unthinkable acts revealed in this book is just one of the extraordinary examples of her unwavering courage. This book moved me in unimaginable ways, and reminded me once again about the immense grace that is born out of faith and forgiveness." 
— Denise Linn, the author of If I Can Forgive, So Can You
 
"Reading this book has truly changed my life—not in some distant future, but right now! I can't even describe my feelings, but they have shifted things inside me in such a way that I just can't find the words. This is a book that defies adequate description."
— Vimala Rodgers, author and motivational speaker
 
"Immaculée's story is totally gripping from first to last page. It's such an important work that I don't want to just describe it as a page-turner . . . but it is. This is a book that will stay with me forever."
— Al Burton, writer, director, and creator of numerous hit TV shows
 
"Left to Tell reminds us that we are all sons and daughters of God; that with faith, miracles will always appear; and that forgiveness is the key to freedom. A must-read for all of us in these troubled times."
— Colette Baron-Reid, the author of Remembering the Future
 
"Left to Tell is an incredibly important story. It addresses both the best and the worst aspects of our humanity. Immaculée is a living example of the undefeatable human spirit! Her story is timeless."
— Steve Kalafer, three-time Academy Award–nominated producer