The Worry Cure: Seven Steps to Stop Worry from Stopping You (Paperback)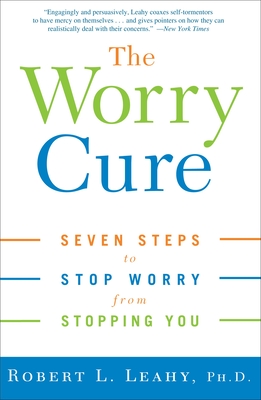 $17.99

Usually Ships in 3-5 Days
Description
---
The comprehensive approach to help you identify, challenge, and overcome all types of worry

You wish you didn't spend as much time worrying as you do, but you just can't seem to help it. Worrying feels like second nature. It's what helps you solve your problems and prevents you from making mistakes. It's what motivates you to be prepared—if you didn't worry, things might get out of hand. Worry protects you, prepares you, and keeps you safe.

Is it working? Or is it making you tense, tired, anxious, uncertain—and more worried?

For more than twenty-five years, Dr. Robert L. Leahy has successfully helped thousands of people defeat the worry that is holding them back. This empowering seven-step program, including practical, easy-to-follow advice and techniques, will help you:

• Determine your "worry profile" and change your patterns of worry
• Identify productive and unproductive worry
• Take control of time and eliminate the sense of urgency that keeps you anxious
• Focus on new opportunities—not on your fear of failure
• Embrace uncertainty instead of searching for perfect solutions
• Stop the most common safety behaviors that you think make things better—but actually make things worse

Designed to address general worries as well as the unique issues surrounding some of the most common areas of worry—relationships, health, money, work, and the need for approval—The Worry Cure is for everyone, from the chronic worrier to the occasional ruminator. It's time to stop thinking you're "just a worrier" who can't change and start using the groundbreaking methods in The Worry Cure to achieve the healthier, more successful life you deserve.
About the Author
---
Robert L. Leahy, Ph.D., is clinical professor in psychiatry at Weill Medical College of Cornell University and the editor and author of 25 books. He is the director of the American Institute for Cognitive Therapy in New York City, a founding fellow--and served as the president-elect--of the Academy of Cognitive Therapy, and was the president of the International Association of Cognitive Psychotherapy.
Praise For…
---
Selected as one of the top 8 self-help books of all-time in SELF Magazine

"Dr. Leahy's The Worry Cure should have been titled, 'Seven Simple Steps to a Stress-Free Life.' This book offers practical and powerful tools to reverse your worry and transform the quality of your life." —Anthony Robbins, author of Awaken the Giant Within and Unlimited Power

"Highly instructive and accessible . . . Worriers will find relief here." —Janis Abrahms Spring, Ph.D., author of After the Affair and How Can I Forgive You?

"I heartily recommend this book to everybody who is worried . . . and that includes practically all of us. Eminent psychologist Dr. Robert L. Leahy has designed an easy-to-follow program pinpointing unproductive worries across the broad spectrum of relationships, work, health, and finances. In elegant style, he shows how to neutralize and even eliminate them." —Aaron T. Beck, M.D., president of the Beck Institute for Cognitive Therapy and Research and university professor emeritus of psychiatry at the University of Pennsylvania

"An excellent book. The self-assessment questionnaires narrow down each reader's personal domains of worry, giving them a leg up on making life-altering changes, and the easy-to-understand step-by-step procedures for overcoming worry provide useful tools that are research-based." —Monica Ramirez Basco, Ph.D., author of Never Good Enough and coauthor of Getting Your Life Back

"Clear and easy to follow . . . like having Dr. Leahy, one of the foremost psychologists in the world, as your personal therapist. His superb insights and understanding of worry allow him to reasonably and logically address this often unreasonable and illogical problem." —Arthur Freeman, Ed.D., A.B.P.P., coauthor of Woulda, Coulda, Shoulda and The 10 Dumbest Mistakes Smart People Make and How to Avoid Them

"Compelling, informative, and highly accessible. This book is certain to become the standard in assisting those who worry achieve fuller, healthier lives." —Douglas Mennin, director of the Yale Anxiety and Mood Services

"A must-read . . . During a time when society is under more stress than ever comes this comprehensive book written by one of the world's most noted authorities. Packed with clinical advice in a practical style, it addresses everyone from the occasional worrywart to some of the most severe types of ruminators." —Frank M. Dattilio, Ph.D., A.B.P.P., department of psychiatry, Harvard Medical School

"Engagingly and persuasively [Leahy] coaxes self-tormentors to have mercy on themselves. Rather than offering palliatives, like 'be more positive,' or 'try to get your mind off it,' he acknowledges that many chronic worriers—including the subset he calls 'defensive pessimists'—want to worry, and are superstitious that, if they fail to worry, they will jinx themselves. Instead he recommends that they manage their fears by scheduling regular freakout sessions, and gives pointers on how they can realistically deal with their concerns.

[The Worry Cure's] seven chapters offer self-testing personality profiles, case study parables, and Dr. Leahy's analyses to help readers identify their stumbling blocks and learn how to hurdle them. This crash course in gnosis is followed by five chapters on common fixations like 'What if nobody likes me?' 'What if my lover leaves me?'and 'What if I really am sick?'

You may or may not turn out to be the unlovable outcast you fear you are, but that's beside the point. 'Worry more effectively,' the author says; and remember that it's your parents who really ought to be stressed out. After all, you are their fault." —New York Times Styles