If You Traveled on the Underground Railroad (Paperback)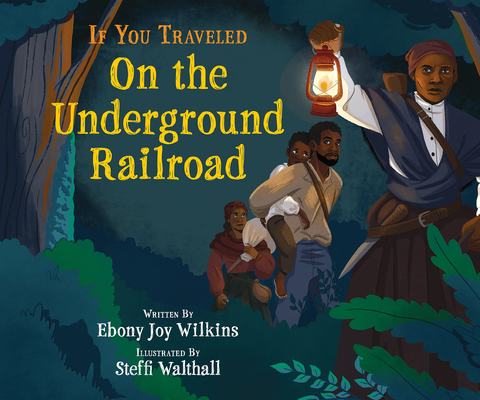 $9.99

Should Be On Our Shelves Now
Description
---
What do you know about the Underground Railroad?
What if you lived in a different time and place? What would you wear? What would you eat? How would your daily life be different?
Scholastic's If You Lived... series answers all of kids' most important questions about events in American history. With a question and answer format, kid-friendly artwork, and engaging information, this series is the perfect partner for the classroom and for history-loving readers.
How did the Underground Railroad get its name? Why is it called a railroad? How did people find it? Who operated it?
Ebony Joy Wilkins answers all these questions and more in this comprehensive guide to the Underground Railroad. A great choice for Civil War units, and for teaching children about this important part of American history.
About the Author
---
Steffi Walthall is a Virginia-based illustrator, a sometimes comic artist and all times storyteller that celebrates diversity in all forms. She loves working on character-centric stories whether they are fictional or historical. She is the illustrator of Ain't Gonna Let Nobody Turn Me 'Round by Kathlyn Kirkwood and You Should Meet John Lewis by Denise Lewis Patrick.
Ebony Joy Wilkins, Ph.D. is an English professor and writer. She is the author of Claudette Colvin Refuses to Move and Katherine Johnson. Her education research centers on African American children's literature and written responses. Her stories aim to highlight marginalized voices. When she isn't writing or teaching, she spends her free time playing tennis, practicing yoga, traveling, and visiting with friends and family. She currently resides in Chicago.
Praise For…
---
Praise for If You Traveled on the Underground Railroad:
"Wilkins highlights the heroic achievements of conductors of African descent . . . A fiery and inspiring look at a pivotal period in U.S. history."--Kirkus
Praise for If You Lived During the Plimoth Thanksgiving;
"A welcome addition to the picture book history collection. ...The text does a remarkable job of giving larger context to the complexity of Indigenous life prior to colonization...This essential book should replace many established titles on the shelf." --School Library Journal (starred review)
"A measured corrective to pervasive myths about what is often referred to as the "first Thanksgiving." ...The lens Newell offers is a Native one, describing how the Wampanoag and other Native peoples received the English rather than the other way around. ...Essential." --Kirkus Reviews (starred review)