Because of You, John Lewis (Hardcover)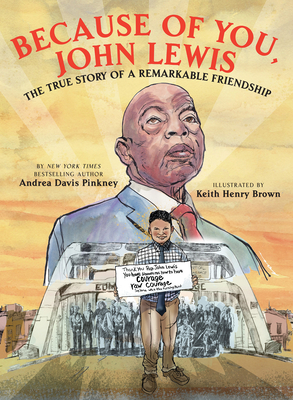 $18.99

Should Be On Our Shelves Now
Description
---
An inspiring story of a friendship between Congressman John Lewis and ten-year-old activist Tybre Faw by New York Times bestselling and Coretta Scott King Award-winning author Andrea Davis Pinkney!
When young Tybre Faw discovers John Lewis and his heroic march across the Edmund Pettus Bridge in the fight for voting rights, Tybre is determined to meet him.
Tybre's two grandmothers take him on the seven-hour drive to Selma, Alabama, where Lewis invites Tybre to join him in the annual memorial walk across the Bridge. And so begins a most amazing friendship!
In rich, poetic language, Andrea Davis Pinkney weaves the true story of a boy with a dream—together with the story of a real-life hero (who himself had a life-altering friendship with Martin Luther King, Jr. when he was young!). Keith Henry Brown's deeply affecting paintings bring this inspiring bond between a young activist and an elder congressman vividly to life.
Who will be next to rise up and turn the page on history?
About the Author
---
Keith Henry Brown is the illustrator of the picture book Birth of the Cool: How Jazz Great Miles Davis Found His Sound. He got his start drawing superheroes, but jazz musicians like Miles Davis have always been heroes to him. A graduate of the High School of Art and Design as well as Parsons School of Design, he combined his love of art and jazz as the creative director of jazz at Lincoln Center. He has also designed and illustrated promotional graphics and jazz album covers. He lives in Brooklyn, New York. You can visit him online at keithhbrown.com.
Andrea Davis Pinkney is the New York Times bestselling and award-winning author of nearly 50 books for young readers, among them The Red Pencil and A Poem for Peter, as well as several collaborations with her husband, Brian Pinkney, including Martin Rising: Requiem for a King, Sit-In, and Hand in Hand, which received the Coretta Scott King Book Award. Andrea Davis Pinkney lives in New York City. You can follow her on Twitter at @AndreaDavisPink, on Instagram at @Andreapinkney1, and on Facebook at @andreadavispinkey.
Praise For…
---
Distinctions and Praise for Because of You, John Lewis: A Junior Library Guild Selection
A Kirkus 2022 Best Picture Books of the Year
Jane Addams Children's Book Award Finalist
Chicago Public Library's Best of the Best Books of 2022: Best Informational Book for Older Readers
★ "This book celebrates heroes and the uncanny ripple effect of being inspired by them. Carrying on the legacies of King and Lewis, Tybre Faw marched for causes he believed in such as school safety, human rights, and immigrant equality. This acts as a helpful reminder to kids that they're never too young to fight for what they believe in. The watercolor illustrations are a vivid and dramatic complement to this story of friendship, courage, and effecting change." -- School Library Journal, starred review ★ "With deep emotion, Pinkney captures the generational struggle for freedom and takes readers from Dr. King's radio speeches during the Jim Crow era to the Black Lives Matter movement of today. Brown's watercolor-and–quill pen illustrations are striking and larger than life, adding great depth and meaning to the verse." -- Kirkus Reviews, starred review
Distinctions and Praise for Martin Rising: Requiem for a King: A Washington Post Best Book of the Year A Kirkus Reviews Best Book of the Year A New York Public Library Best Book of the Year A School Library Journal Best Book of the Year A Chicago Public Library Best Book of the Year "Envisioned for young readers but sure to be appreciated more widely, Martin Rising depicts King as a source of warmth and brightness on its radiant front cover. [The Pinkneys] sustain and develop this idea throughout their book, paying stirring tribute to King's personal warmth, spiritual strength and leadership. The book's vivid poetry bursts with information as well as feeling, and the watercolor images are grounded in reality but feel elevated, on a higher plane." -- The Washington Post ​​​​​​​ ★ "Spiritually vital." -- Kirkus Reviews, starred review ​​​​​​​ ★ "Unique and remarkable." -- Publishers Weekly, starred review ​​​​​​​ ★ "Each poem trembles under the weight of the story it tells... Martin Rising packs an emotional wallop and, in perfect homage, soars when read aloud." -- Booklist, starred review ​​​​​​​ ★ "A powerful celebration of Martin Luther King Jr... As the last moments of King's life tick away, the narrative zooms in, detailing the emotional beats of his final public speeches, the feverish exhaustion of long days and nights away from home... Throughout, the crowds filling churches seeking inspiration and bravely marching in the face of violence are as much a part of the story as King himself... Beautifully illustrated and begging to be read aloud, this poetry collection is an exceptional classroom tool for civil rights lessons and offers much for individual readers to linger over." -- School Library Journal, starred review ​​​​​​​ ★ "A creative poetic celebration of the contributions of Martin Luther King Jr. that also, as a song for the dead, includes a meticulous explanation of how and why he died... Accompanying the varied and intense poetry, Brian Pinkney's swirling watercolor, gouache, and India ink illustrations give life and movement to King's story and reflect the complex emotions that surface throughout this biography." -- The Horn Book, starred review ​​​​​​​ "This genre-bending work uses poetry to document the last months of Martin Luther King, Jr.'s life... This well-researched, thorough tribute captures the details that make each section vividly memorable... The often alliterative and sometimes rhyming poetry, full of simile and metaphor, begs for re-reading and performing. Brian Pinkney's... luminescent illustrations epitomize the essence of King's life as a beacon of light and creates hope, even during troubling times... The back matter includes a retelling of the events of King's last months in straight-forward text accompanied by black-and-white photographs, a timeline, and a bibliography. Martin Rising is an inspiring joy to read and a genuinely unique accolade." -- VOYA
Distinctions and Praise for Martin Rising: Requiem for a King:
A Washington Post Best Book of the Year
A Kirkus Reviews Best Book of the Year
A New York Public Library Best Book of the Year
A School Library Journal Best Book of the Year
A Chicago Public Library Best Book of the Year
"Envisioned for young readers but sure to be appreciated more widely, Martin Rising depicts King as a source of warmth and brightness on its radiant front cover. [The Pinkneys] sustain and develop this idea throughout their book, paying stirring tribute to King's personal warmth, spiritual strength and leadership. The book's vivid poetry bursts with information as well as feeling, and the watercolor images are grounded in reality but feel elevated, on a higher plane." -- The Washington Post
* "Spiritually vital." -- Kirkus Reviews, starred review
* "Unique and remarkable." -- Publishers Weekly, starred review
* "Each poem trembles under the weight of the story it tells... Martin Rising packs an emotional wallop and, in perfect homage, soars when read aloud." -- Booklist, starred review
* "A powerful celebration of Martin Luther King Jr... As the last moments of King's life tick away, the narrative zooms in, detailing the emotional beats of his final public speeches, the feverish exhaustion of long days and nights away from home... Throughout, the crowds filling churches seeking inspiration and bravely marching in the face of violence are as much a part of the story as King himself... Beautifully illustrated and begging to be read aloud, this poetry collection is an exceptional classroom tool for civil rights lessons and offers much for individual readers to linger over." -- School Library Journal, starred review
* "A creative poetic celebration of the contributions of Martin Luther King Jr. that also, as a song for the dead, includes a meticulous explanation of how and why he died... Accompanying the varied and intense poetry, Brian Pinkney's swirling watercolor, gouache, and India ink illustrations give life and movement to King's story and reflect the complex emotions that surface throughout this biography." -- The Horn Book, starred review
"This genre-bending work uses poetry to document the last months of Martin Luther King, Jr.'s life... This well-researched, thorough tribute captures the details that make each section vividly memorable... The often alliterative and sometimes rhyming poetry, full of simile and metaphor, begs for re-reading and performing. Brian Pinkney's... luminescent illustrations epitomize the essence of King's life as a beacon of light and creates hope, even during troubling times... The back matter includes a retelling of the events of King's last months in straight-forward text accompanied by black-and-white photographs, a timeline, and a bibliography. Martin Rising is an inspiring joy to read and a genuinely unique accolade." -- VOYA