The Story of Russia (Paperback)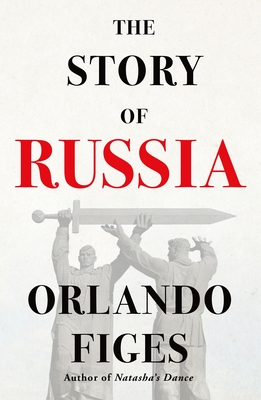 $19.99

Should Be On Our Shelves Now
Description
---
"This is the essential backstory, the history book that you need if you want to understand modern Russia and its wars with Ukraine, with its neighbors, with America, and with the West."
—Anne Applebaum, author of Twilight of Democracy and Red Famine

Named a Most Anticipated Book of the Year by Publishers Weekly and Kirkus Reviews

From "the great storyteller of Russian history" (Financial Times), a brilliant account of the national mythologies and imperial ideologies that have shaped Russia's past and politics—essential reading for understanding the country today

The Story of Russia is a fresh approach to the thousand years of Russia's history, concerned as much with the ideas that have shaped how Russians think about their past as it is with the events and personalities comprising it. No other country has reimagined its own story so often, in a perpetual effort to stay in step with the shifts of ruling ideologies.

From the founding of Kievan Rus in the first millennium to Putin's war against Ukraine, Orlando Figes explores the ideas that have guided Russia's actions throughout its long and troubled existence. Whether he's describing the crowning of Ivan the Terrible in a candlelit cathedral or the dramatic upheaval of the peasant revolution, he reveals the impulses, often unappreciated or misunderstood by foreigners, that have driven Russian history: the medieval myth of Mother Russia's holy mission to the world; the imperial tendency toward autocratic rule; the popular belief in a paternal tsar dispensing truth and justice; the cult of sacrifice rooted in the idea of the "Russian soul"; and always, the nationalist myth of Russia's unjust treatment by the West.

How the Russians came to tell their story and to revise it so often as they went along is not only a vital aspect of their history; it is also our best means of understanding how the country thinks and acts today. Based on a lifetime of scholarship and enthrallingly written, The Story of Russia is quintessential Figes: sweeping, revelatory, and masterful.
About the Author
---
Orlando Figes is the author of many acclaimed books on Russian history, including A People's Tragedy, Natasha's Dance, The Whisperers, The Crimean War, Revolutionary Russia, and The Europeans: Three Lives and the Making of a Cosmopolitan Culture. His books have been translated into over thirty languages. He is a professor of history at Birkbeck College, London University.
Praise For…
---
"An indispensable manual for making sense of Russia's present . . . The Story of Russia shows how myth and fact mix dangerously in the tales this crucial country tells about itself."
—The Guardian

"A lucid chronological journey that ably illustrates how narratives from Russia's past have been used to shape its autocratic present."
—The Observer

"Impressive and deeply immersive . . . Figes speaks on every page in the crisp, sober manner of a newsreader, while observing the action unfold with an eagle's eye . . . It will be a small tragedy if Russia-watchers don't read The Story of Russia."
—Sara Wheeler, The Spectator

"Excellent."
—The Times (UK)

"Crucially relevant . . . convincing . . . A lucid, astute text that unpacks the myths of Russian history to help explain present-day motivations and actions."
—Kirkus Reviews (starred review)

"Rich and immersive . . . Figes's fluid prose keeps the jam-packed narrative from getting bogged down in intricate historical matters. Russophiles will savor this illuminating survey."
—Publishers Weekly

"Nowhere is politics defined more by history than in Russia. Nowhere is the line between myth and history so blurred and nowhere is distinguishing the two more consequential. The Story of Russia by Orlando Figes is both a brilliant work of historical scholarship and an essential contribution to deciphering our current crisis."
—Adam Tooze, author of Crashed

"If you really want to understand Putin's Russia today, anchored in its past of myths, then you simply have to read Figes's superb account in The Story of Russia."
—Antony Beevor, author of Stalingrad

"A magnificent, magisterial thousand-year history of Russia by one of the masters of Russian scholarship."
—Simon Sebag Montefiore, author of Stalin

"A book of singular power and significance and exquisite prose that takes us to the beating heart of history and culture and helps us to understand our own times as well as those past. A stunningly precise and affecting read, one that left me wanting even more from this brilliant writer."
—Philippe Sands, author of East West Street

"Urgent and revelatory and brilliantly told, it's all the things you pray a book will be when you first pick it up."
—Peter Morgan, creator of The Crown

"A brilliantly concentrated meditation on the power of myth and history, and the ability of both to form and deform, guide and misguide, the present. Thoughtful, nuanced, beautifully written and above all persuasive, it shows how we are all trapped in the loops and coils of myth, memory and forgetting, and demonstrates the urgent need for historians to remember, and insist on the truth. The Story of Russia acts as a brilliant political counterpart to Figes' wonderful cultural history, Natasha's Dance. The two books now stand together, perfectly complimentary wings of a diptych of genius, the crowning works of a great historian at the peak of his powers."
—William Dalrymple, author of The Anarchy