Wolfish: Wolf, Self, and the Stories We Tell About Fear (Hardcover)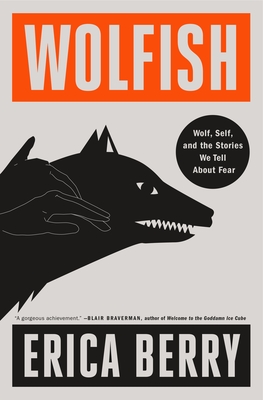 $29.99

Usually Ships in 3-5 Days
Description
---
For fans of Helen MacDonald's H is for Hawk and Mary Roach, Erica Berry's WOLFISH blends science, history, and cultural criticism in a years-long journey to understand our myths about wolves, and track one legendary wolf, OR-7, from the Wallowa Mountains of Oregon

A Most Anticipated Book of 2023: TIME, Los Angeles Times, Vulture, Salon, Bustle, Los Angeles Times, The Rumpus, Financial Times, Reader's Digest, LitHub, Book Riot, Debutiful, and more!

"Wolfish starts with a single wolf and spirals through nuanced investigations of fear, gender, violence, and story. A GORGEOUS achievement." —Blair Braverman, author of Welcome to the Goddamn Ice Cube

"This is one of those stories that begins with a female body. Hers was crumpled, roadside, in the ash-colored slush between asphalt and snowbank."

So begins Erica Berry's kaleidoscopic exploration of wolves, both real and symbolic. At the center of this lyrical inquiry is the legendary OR-7, who roams away from his familial pack in northeastern Oregon. While charting OR-7's record-breaking journey out of the Wallowa Mountains, Erica simultaneously details her own coming-of-age as she moves away from home and wrestles with inherited beliefs about fear, danger, femininity, and the body.

As Erica chronicles her own migration—from crying wolf as a child on her grandfather's sheep farm to accidentally eating mandrake in Sicily—she searches for new expressions for how to be a brave woman, human, and animal in our warming world. What do stories so long told about wolves tell us about our relationship to fear? How can our society peel back the layers of what scares us? By strategically unspooling the strands of our cultural constructions of predator and prey, and what it means to navigate a world in which we can be both, Erica bridges the gap between human fear and grief through the lens of a wrongfully misunderstood species.

Wolfish is for anybody trying to navigate a world that is often scary. A powerful, timeless, and necessary book for our current and future generations.
About the Author
---
Erica Berry is a writer based in her hometown of Portland, Oregon. She has an MFA from the University of Minnesota, where she was a College of Liberal Arts Fellow. Her writing has appeared in The Guardian, The New York Times Magazine, The Yale Review, Outside Magazine, Catapult, The Atlantic, Guernica, and elsewhere. Winner of the Steinberg Essay Prize and the Kurt Brown Prize in Nonfiction, she has received fellowships and funding from the Bread Loaf Writers Conference, Tin House, the Ucross Foundation, the Minnesota State Arts Board, and the Institute for Journalism and Natural Resources. A former Writer-in-Residence with the National Writers Series in Traverse City, Michigan, she is currently a Writer-in-the-Schools with Literary Arts in Portland. Wolfish is her first book.
Praise For…
---
"Far more than a book about an animal, this is a book about how fear shapes the world...The prose itself in Wolfish is brisk and essayistic, and makes for a compelling read… Wolfish is a fascinating document." —The New Republic

"The type of nonfiction book that any can read regardless of their interests as long as they like damn good writing… Berry smashes expectations for what a book can do." —Debutiful

"Richly discursive…Berry draws on a huge, rich depository of lupine literature…The book's most obvious ancestor is Helen Macdonald's megahit of 2014, H Is for Hawk; it has that same intellectual range…" —The Sunday Times

"Wolfish's explorations of predators and prey in the natural world and in the man-made world defies easy categorization….asks readers to reconsider their relationships with fear and the creatures who cause it." —Harper's Bazaar

"A sensitive, satisfying read." —Reader's Digest

"Wolfish delivers a portrait of the American cultural unconscious—and its intersections with sex, race, and the environment… As Berry masterfully shows, a wolf…is never just a wolf." —The Millions

"Captivating." —Bustle

"Richly layered and complex…Berry's vulnerability and strength is displayed in poignant detail." —The Star Tribune

"Exhilarating." —The Washington Post

"Berry's braided approach renders Wolfish both a vulnerable self-investigation and a wide-ranging exploration of fear—and, ultimately, an antidote to it. She makes a stirring case for walking alongside the symbolic wolf." —The Atlantic

"A prize-winning journalist, Berry lets no one off the hook—not man nor beast nor woman. What do we fear, and when, and why? This book should be required reading." —Los Angeles Times

"A fascinating read, perfect for fans of Mary Roach's Fuzz, or anyone who enjoys learning about wolves and what they can teach about human nature." —Library Journal

"This blend of memoir and nature writing will call to those who delve deeply into themselves and into our relationship with the wild." —Booklist

"An exhilarating book—intricate, thoughtful, and thick with connections." —Megha Majumdar, New York Times bestselling author of A Burning

"[A] worthy addition to the literature surrounding wolves." —Kirkus

"[A] wise and arresting debut about the wolves—real and symbolic—that haunt American life. Blending science writing with memoir and cultural criticism, Wolfish is a powerful exploration of predators and their prey delivered with an unflinching and vulnerable honesty.... a necessary environmental memoir: that which acknowledges fear in its ongoing pursuit of hope." —Vulture

"I devoured every startling, lyrical, haunting, yet all-too-familiar page of Wolfish. Such a stunning achievement, it left me feeling like one of the pack." —Elizabeth Rush, author of Rising: Dispatches from The New American Shore, a finalist for the Pulitzer Prize

"I can't stop talking about Erica Berry's debut Wolfish, a passionate and personal portrayal of the wildness in the world and ourselves. With compelling and lyrical prose that reveals a depth of knowledge and research, Berry looks not just at wolves but the wolf nature in all of us and around us, asking important questions about fear, identity, and our relationship to the natural world. The connections she spins out between world and self are both critical investigations and insightful revelations. Wolfish is a triumph of a debut, cementing Berry as an important new voice." —Lyz Lenz, author of Belabored and God Land

"Insightful and gorgeously written, Wolfish shows us that the stories we tell about predators and prey are always about more than they seem. This exploration of violence and vulnerability is a book that never stopped surprising me." —Rachel Monroe, author of Savage Appetites: True Stories of Women, Crime, and Obsession

"Wolfish starts with a single wolf and spirals through nuanced investigations of fear, gender, violence, and story. A gorgeous achievement." —Blair Braverman, author of Welcome to the Goddamn Ice Cube: Chasing Fear and Finding Home in the Great White North

"Elegant and elegiac, Wolfish asks how we live alongside, and honor, both the wilds we do such harm to and the fears that run wild within us. Erica Berry beautifully weaves literature, science, philosophy, history, and her own memories to deconstruct millenia of myth-making around wolves, urging a return to something even more powerful than the tales we've spun: untangling the creature from our fear, to better understand both it and ourselves. This is a book composed of what humanity has made, yes, but above all it's a gorgeous reminder that we, too, are part of nature." —Alex Marzano-Lesnevich, author of The Fact of a Body: A Murder and a Memoir

"Erica Berry's Wolfish is a marvel: a beautiful piece of work as wide-ranging as it is precise. Berry's keen eye and fresh, startling prose are not only an excellent guide to nature and the world around us, but also to what our reactions to the landscape tell us about ourselves—what we fear and who we might become. You won't want to miss this." —V. V. Ganeshananthan, author of Love Marriage, longlisted for the Women's Prize

"The space between humans and wolves is filled with stories, from fairy tales to family histories to our own fears and desires. With courage and insight, Erica Berry illuminates this tangled territory, inviting us to explore it for ourselves." —Michelle Nijhuis, author of Beloved Beasts: Fighting For Life in an Age of Extinction