Pandemic 1918: Eyewitness Accounts from the Greatest Medical Holocaust in Modern History (Paperback)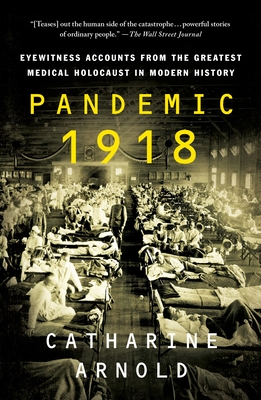 $18.99
Email or call for price
Description
---
Before AIDS or coronavirus, there was the Spanish Flu — Catharine Arnold's gripping narrative, Pandemic 1918, marks the 100th anniversary of an epidemic that altered world history, now in paperback.

In January 1918, as World War I raged on, a new and terrifying virus began to spread across the globe. In three successive waves, from 1918 to 1919, influenza killed more than 50 million people. German soldiers termed it Blitzkatarrh, British soldiers referred to it as Flanders Grippe, but world-wide, the pandemic gained the notorious title of "Spanish Flu". Nowhere on earth escaped: the United States recorded 550,000 deaths (five times its total military fatalities in the war) while European deaths totaled over two million.

Amid the war, some governments suppressed news of the outbreak. Even as entire battalions were decimated, with both the Allies and the Germans suffering massive casualties, the details of many servicemen's deaths were hidden to protect public morale. Meanwhile, civilian families were being struck down in their homes. The City of Philadelphia ran out of gravediggers and coffins, and mass burial trenches had to be excavated with steam shovels. Spanish Flu conjured up the specter of the Black Death of 1348 and the great plague of 1665, while the medical profession, shattered after five terrible years of conflict, lacked the resources to contain and defeat this new enemy.

Through primary and archival sources, historian Catharine Arnold gives readers the first truly global account of the terrible epidemic.
About the Author
---
CATHARINE ARNOLD studied English at Girton College, Cambridge and holds a further degree in psychology. A journalist, academic, and popular historian, her previous books include The Sexual History of London, Necropolis, and Bedlam.
Praise For…
---
Praise for Pandemic 1918:

"[Catharine Arnold] is good at looking at civilians as well as troops and their nurses and doctors and at teasing out the human side of the catastrophe… powerful stories of ordinary people." —Wall Street Journal

"Historian Arnold presents a collection of essays that colorfully illustrate the everyday impact of the disease...an enjoyable read." —Library Journal (starred review)

"Well-researched...serves as a stark warning of the threat of pandemic flu."—Publishers Weekly (starred review)

"A wealth of stories..well-researched." —Kirkus Reviews

"Detailed and chilling…Arnold gives firsthand accounts from those who witnessed and survived the Spanish flu's deadly grip while examining its impact." —Bookpage

"Catharine Arnold focuses on personal experiences to convey emotionally the horror and the uncertainty of this mysterious disease…lurid and pacey, Pandemic 1918 aspires to the page-turning fascination of a detective thriller." —BBC History Magazine