The Russia Conundrum: How the West Fell for Putin's Power Gambit--and How to Fix It (Hardcover)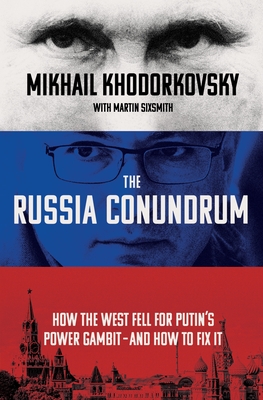 $29.99
Email or call for price
Description
---
An urgent analysis of the battle between Russia and the West and an exposé of Putin's Russia, by a former Kremlin insider.

"I'm a fairly calm fellow; I don't usually get wound up about things. But I was, let's say, concerned when I tuned into the Moscow Echo radio station and heard that the Kremlin had put a price on my head. The announcement didn't quite say 'dead or alive'. But it came close..." —Mikhail Khodorkovsky, March 2021

Mikhail Khodorkovsky has seen behind the mask of Vladimir Putin. Once an oil tycoon and the richest man in Russia, Khodorkovsky spoke out against the corruption of Putin's regime—and was punished by the Kremlin, stripped of his entire wealth and jailed for over ten years.

Now freed, working as a pro-democracy campaigner in enforced exile, Khodorkovsky brings us the insider's battle to save his country's soul. Offering an urgent analysis of what has gone wrong with Putin, The Russia Conundrum maps the country's rise and fall against Khodorkovsky's own journey, from Soviet youth to international oil executive, powerful insider to political dissident, and now a high-profile voice seeking to reconcile East and West.

With unparalleled insight, written with Sunday Times bestselling author Martin Sixsmith, The Russia Conundrum exposes the desires and damning truths of Putin's "mafia clan," and provides an answer to the West on how it must challenge the Kremlin—in order to pave the way for a better future.
About the Author
---
In the early 2000s, Mikhail Khodorkovsky was one of the wealthiest men in Russia, the head of the giant Yukos oil company, ranked 16th on Forbes list of world billionaires. But his pro-democracy, anti-corruption views led to a clash with President Vladimir Putin, who had him arrested in 2003. Convicted on politically-motivated fraud charges, Khodorkovsky spent ten years in Putin's prison camps, recognized by Amnesty International as a prisoner of conscience. Since his release in December 2013, Khodorkovsky has lived in exile in Switzerland and in the UK. He is the founder of the Open Russia movement, promoting political reform in Russia, including free and fair elections, the protection of journalists and activists, the rule of law and media independence. He has been described by The Economist as "the Kremlin's leading critic-in-exile."
Praise For…
---
"A disturbing account that peels back the layers of the Putin regime to reveal the corruption and violence at the core.…Authoritative, essential reading for anyone who wants to understand the frightening breadth and depth of Putin's methods." —Kirkus (starred)

"[A] valuable resource for understanding how modern Russia came to be." —Publishers Weekly