From Beirut to Jerusalem (Paperback)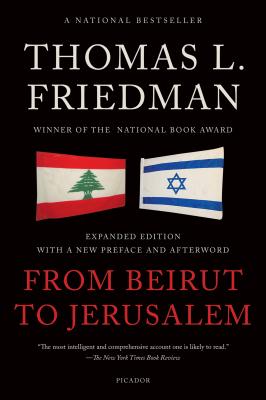 $24.00

Should Be On Our Shelves Now
Description
---
"If you're only going to read one book on the Middle East, this is it."---Seymour M. Hersh

One of the most thought-provoking books ever written about the Middle East, From Beirut to Jerusalem remains vital to our understanding of this complex and volatile region of the world. Three-time Pulitzer Prize winner Thomas L. Friedman drew upon his ten years of experience reporting from Lebanon and Israel to write this now-classic work of journalism. In a new afterword, he updates his journey with a fresh discussion of the Arab Awakenings and how they are transforming the area, and a new look at relations between Israelis and Palestinians, and Israelis and Israelis. Rich with anecdote, history, analysis, and autobiography, From Beirut to Jerusalem will continue to shape how we see the Middle East for many years to come.
About the Author
---
Thomas L. Friedman is an internationally renowned author, reporter, and columnist-the recipient of three Pulitzer Prizes and the author of six bestselling books, among them From Beirut to Jerusalem and The World Is Flat.

He was born in Minneapolis in 1953, and grew up in the middle-class Minneapolis suburb of St. Louis Park. He graduated from Brandeis University in 1975 with a degree in Mediterranean studies, attended St. Antony's College, Oxford, on a Marshall Scholarship, and received an M.Phil. degree in modern Middle East studies from Oxford. After three years with United Press International, he joined The New York Times, where he has worked ever since as a reporter, correspondent, bureau chief, and columnist. At the Times, he has won three Pulitzer Prizes: in 1983 for international reporting (from Lebanon), in 1988 for international reporting (from Israel), and in 2002 for his columns after the September 11th attacks.

Friedman's first book, From Beirut to Jerusalem, won the National Book Award in 1989. His second book, The Lexus and the Olive Tree: Understanding Globalization (1999), won the Overseas Press Club Award for best book on foreign policy in 2000. In 2002 FSG published a collection of his Pulitzer Prize-winning columns, along with a diary he kept after 9/11, as Longitudes and Attitudes: Exploring the World After September 11. His fourth book, The World Is Flat: A Brief History of the Twenty-first Century (2005) became a #1 New York Times bestseller and received the inaugural Financial Times/Goldman Sachs Business Book of the Year Award in November 2005. A revised and expanded edition was published in hardcover in 2006 and in 2007. The World Is Flat has sold more than 4 million copies in thirty-seven languages.

In 2008 he brought out Hot, Flat, and Crowded, which was published in a revised edition a year later. His sixth book, That Used to Be Us: How American Fell Behind in the World We Invented and How We Can Come Back, co-written with Michael Mandelbaum, was published in 2011.

Thomas L. Friedman lives in Bethesda, Maryland, with his family.
Praise For…
---
"The most intelligent and comprehensive account one is likely to read." —The New York Times Book Review

"A book that must be read by all who are concerned about the present and future of a part of our world to which Western civilization has always been, and will continue to be, vitally connected." —The Washington Post Book World

"A sparkling intellectual guidebook…An engrossing journey not to be missed." —The Wall Street Journal

"A complex, illuminating vision written with a novelist's eye for the telling detail and a reporter's knack for the revealing quote." —San Francisco Chronicle

"Perhaps no other book written for a popular audience has so successfully explained the unexplainable….This book is an annotated road map to the past, and a brilliant crystal ball for the future." —St. Louis Post-Dispatch

"Fascinating...Friedman has mastered his subject." —Time