Scream at the Sky: Five Texas Murders and One Man's Crusade for Justice (Paperback)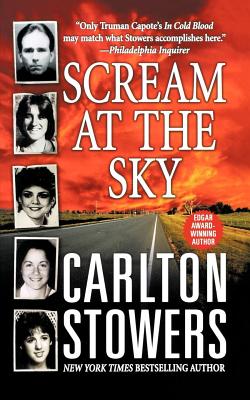 $23.99

Usually Ships in 3-5 Days
Description
---
An unsolved murder spree that left a town frozen in fear...
In rural Texas, just before Christmas in 1984, a young nurse was found raped and murdered in her Wichita Falls home. Within weeks, a second woman was found-her brutalized body dumped in the frozen Texas plains. Over the next seventeen months three more women would fall victim to a faceless evil, fueling the city's fears and baffling authorities whose every lead came to a dead end. For one haunted man the case would never die.

A fight for justice as cunning and relentless as the killer himself...
Almost fourteen years to the day of the first murder, ambitious investigator John Little reopened the cold-case files determined to deliver closure to the victims' friends and families, and bring a killer to justice. Working on his instincts, following every imaginable clue, Little embarked on an ingeniously clever and exhaustive cat-and-mouse game to trap an elusive serial killer whose sick fantasies would finally be silenced forever.
About the Author
---
Carlton Stowers is the author of more than two dozen works of nonfiction, including the Edgar Award-winning Careless Whispers, the Pulitzer Prize-nominated Innocence Lost, and Open Secrets. He and his wife live in Cedar Hill, Texas.
Praise For…
---
"Only Truman Capote's In Cold Blood may match what Stowers accomplishes here." —Philadelphia Inquirer

"An utterly compelling account of outrage, travesty, and redemption. No one does true crime better than Carlton Stowers. No one." —Jonathan Kellerman

"It cannot be recommended to the faint of heart...the author is as methodical and skillful as Little in the forensic reconstruction of an investigation and trial that provided closure for five families and judgment and a sentence for a killer who eluded justice for 15 years." —The Washington Post Book World

"Carlton Stowers gets it exactly right... Scream At the Sky offers compassion for the victims as well as a balanced, warts-and-all view of each...thanks to John Little, their murders were avenged. Thanks to Carlton Stowers, they will not be forgotten." —Austin American Statesman

"Stowers deftly portrays investigators' increasing tenacity and Wardrip's trail of deceit and violence, elements contributing to the tension as readers wait for the law to catch up with a bizarre and maddeningly fortunate murderer." —Kirkus Reviews

"The book becomes increasingly suspenseful as Little quietly builds his case against the sanctimonious Wardrip, whose composure crumbles when he's finally confronted on his old misdeeds. Stowers demonstrates sensitivity toward the many survivors of Wardrip's crimes, yet at heart this is a gory, effective meditation on the evil sometimes committed by 'ordinary' men and the great efforts necessary for justice." —Publishers Weekly

"Stowers crams an incredible amount of detail into his narrative. He doesn't rehash the crimes as the prosecutors present new evidence to jurors. He gives readers credit for being able to remember what they learned earlier in the book. Most important, Stowers presents the murderer as a multidimensional character. Forget 'investigative' TV series. Scream At the Sky is better than CSI or Law & Order, because it's about the real thing." —Arizona Republic, Fort Worth Star-Telegram