Betting on Horse Racing for Dummies (Paperback)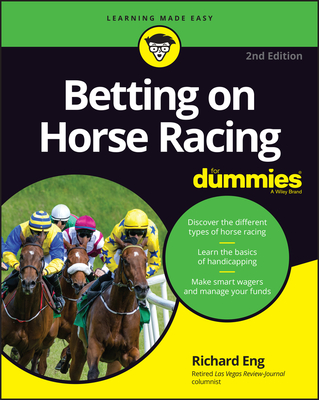 $24.99

Usually Ships in 3-5 Days
Description
---
Betting on Horse Racing For Dummies is packed with information that teaches you the ins and outs of the racetrack. You'll learn how to improve your odds, avoid common betting mistakes, and just plain have fun at the races. This is a spectator's easy-to-understand guide, so you'll have no trouble identifying the racing breeds with their strengths and weaknesses, sizing up the jockey, understanding the importance and role of a trainer, placing bets, managing money, and beyond. Can't make it to the track? No worries You'll get the scoop on online betting with off track betting sites and apps. This update covers the latest changes in the betting world and in the racing world, so you'll know just what you're wagering.
Learn about the different types of horse racing
Discover and identify the best racing breeds
Know your jockeys and trainers
Make smart wagers and manage your funds
For beginning betters, Betting on Horse Racing For Dummies is your ticket to well informed wagers and a winning edge. Already know the ropes? You'll love the market trends and insider tips you'll find inside.
About the Author
---
Richard Eng has been involved in thoroughbred horse racing for more than 40 years. Eng was a former researcher/writer for ABC Sports when they televised the Triple Crown races (The Kentucky Derby, The Preakness, and The Belmont Stakes). He retired from the Las Vegas Review-Journal after a 20 year career as the turf editor and handicapper for the newspaper. He also authored the first edition of Betting On Horse Racing For Dummies.