Fearless After Fifty: How to Thrive with Grace, Grit and Yoga (Paperback)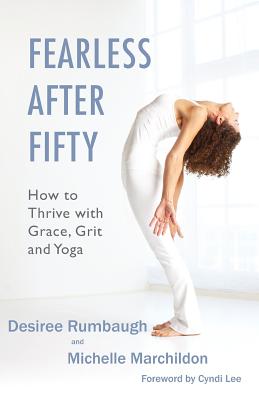 $21.95

Usually Ships in 3-5 Days
Description
---
It's not Game Over. It's Game On.
In these days when so much about a youthful world is glorified, along comes a courageous new book that shows how to flourish in midlife with yoga. Fearless After Fifty: How to Thrive with Grace, Grit and Yoga is written by two internationally-known yoga teachers, Desiree Rumbaugh and Michelle Marchildon, the Yogi Muse. These two women write with a candid, conversational tone that demystifies yoga and makes you want what they're having. Fearless After Fity has a forward by best-selling author Cyndi Lee and is endorsed by Seane Corn, Amy Ippoliti, Elene Brower and many more. It is filled with anecdote, story, proven scientific research and practical advice for how to get that swagger in midlife.
Fearless After Fifty is also the inspirational life story of Desiree Rumbaugh, who used yoga and Eastern philosophies to reclaim her right to joy after the tragic murder of her son. Her story reminds us that everyone has endured hardship in life. "I had to choose love over fear if I was going to survive," she said.
In addition to story, scientific research, anecdote and philsophy, Fearless After Fifty shows how to get started with yoga in a strong and accessible manner. The yoga is designed to be accessible by all levels and will make us stronger and more resilient. We believe that if you practice strong you will cultivate a fearless attitude on and off the yoga mat.
Fearless After Fifty: How to Thrive with Grace, Grit and Yoga is available August 10, 2017. Published by Wildhorse Ventures, it is 292 pp. in a perfect paperback format.