Master Your Pain: A Comprehensive Science-based Method to Help You Live Well With Chronic Pain (Paperback)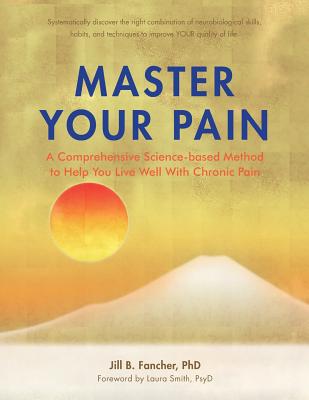 $21.95
Usually Ships in 3-5 Days
Description
---
Master Your Pain
is a comprehensive workbook for the person with chronic pain. It teaches powerful techniques rooted in brain/body science to help reduce pain and change what it is like to live with chronic pain. Written from personal and professional expertise with chronic pain,
Master Your Pain
compassionately empowers the reader with knowledge about pain and introduces neurobiological concepts, translating these into practical, easy-to-use techniques that address the destructive impact of persistent pain. The approaches used in this workbook are validating, non-judgmental, and can be life changing. It is not a "one size fits all" method, instead
Master Your Pain
aims to help individualize pain mastery, encouraging skepticism and systematic discovery of the utility of each skill for each person suffering with chronic pain.
WHAT THEY'RE SAYING:
"Master Your Pain insightfully creates a bridge between psychology and biology. It goes beyond what any other comparable pain book currently offers. She brilliantly delivers new tools to chronic pain patients."
- JP Garofalo, PhD, Associate Professor of Psychology, Washington State University
"Master Your Pain provides straight-forward approaches to learning to manage, cope with, and even master chronic pain. She provides a broad spectrum of easy-to-implement pain management tools; from breath-work, visualization and relaxation, to understanding how to manage daily and social life, including nutrition and interactions with your medical practitioners. At the root of all Dr. Fancher's recommendations is an understanding of the latest research on chronic pain and what has been proven to work. She is able to educate the reader throughout the book so that the person experiencing persistent pain can gain an accurate understanding of what is physiologically happening to the brain and nervous system and how this contributes to and even exacerbates the pain experience."
- Allison Suran, PT, GCFP, Founder Healing Bridge Physical Therapy
"Dr. Fancher, as someone who deals personally with chronic pain and as a pain psychologist, speaks with an understanding no other expert can match. I highly recommend Master Your Pain to all my patients and for anyone with chronic pain."
- Ginevra Liptan, MD, Medical Director, The Frida Center for Fibromyalgia
"The book gives great insight into the variety of techniques that can make a difference, shows how personal responsibility and work is essential and then gives clear guidance about how to do the work in a clear and effective manner. I believe this book will become an essential tool for any effective pain management programs as well as being an essential resource for any individual wanting to determine how to not let chronic pain control or limit their lives."
- Robert Djergaian, MD, Medical Director, Banner Good Samaritan Rehabilitation Institute
"My role as a pain management specialist became infinitely more fulfilling and effective when I met my colleague and friend, Dr Jill Fancher, to whom I hope all my patients have the benefit of learning from. I am so excited to have her workbook Master Your Pain as a resource my patients can read, use, experience and learn from as they move through their personal journey we call 'chronic pain'." - Sandra Hadenfeld, ARNP, Pain Management Specialist, Peace Health Southwest Interventional Pain Clinic
About the Author
---
Dr. Jill Fancher is a clinical psychologist and pain patient who is passionate about helping people with chronic pain. She describes herself as a health-geek, and loves to wade through the science of the brain and pain management, combining these into therapeutic skill sets for changing pain and lives. In addition to her active research on the Mastering Pain Method, and busy clinical pain psychology practice, she has served as co-chair of the Pain Society of Washington.