Positive Options for Complex Regional Pain Syndrome (Crps): Self-Help and Treatment (Paperback)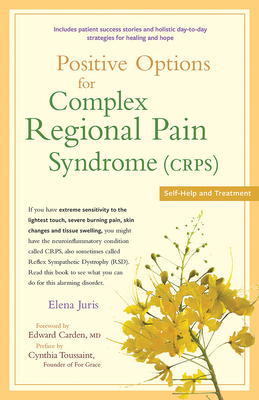 $17.95
Usually Ships in 3-5 Days
Description
---
Imagine if the mere breeze of an air conditioner were to send you into excruciating pain. For those suffering from Complex Regional Pain Syndrome (CRPS), historically called Reflex Sympathetic Dystrophy (RSD), this crippling neuropathic pain is an unrelenting reality. With symptoms such as swelling, hypersensitivity, stiffness, burning pain, and temperature abnormalities, CRPS can develop at any time and quickly leaves its victims disabled and isolated.
This book explains CRPS in an accessible style for all readers, and provides the latest medical treatments, self-help techniques, complementary therapies, and holistic strategies for maximizing the potential for healing. Readers will find a wealth of tips on life modifications to help better manage their condition. They'll find two interviews with practitioners who offer insights every patient should know, with the help of pain specialist Edward Carden, MD, and occupational therapist and neurological acupuncturist Sheri Barnes. They'll find a discussion of complementary therapies to tailor to their needs. They'll find a list of "dynamite distractions" that can refresh the pain-wracked mind and help readers rediscover their imagination and humor, when they just need to take their mind off the illness. They'll draw hope from real patient testimonies on techniques for transforming the pain and discomfort of CRPS. They'll find a chapter addressed to loved ones, providing advice and support in their difficult roles as encouragers and caregivers. Finally, readers will find information on how everyone can help to increase CRPS awareness, and an extensive list of resources to help patients and caregivers begin to connect with the support available.
CRPS remains a mysterious, poorly understood condition and few books about it exist, as knowledge of the syndrome continues to evolve. Previously, the condition was called Reflex Sympathetic Dystrophy (RSD). This second, retitled edition to the original Positive Options for Reflex Sympathetic Dystrophy (RSD): Self-help and Treatment (2004) is chock-full of new information, reflecting a decade's worth of advancements following the popular debut of the book's first edition.

About the Author
---
A recovering CRPS patient currently in remission, Elena Juris has developed patient and professional health education programs and materials for organizations, government agencies, and companies such as the American Cancer Society, American Association of Poison Control Centers, and U.S. Department of Health and Human Services. The Deputy Director of the National Institutes of Health Training Center, she lives in Washington, D.C. Dr. Edward Carden lives in Marina Del Ray, CA. Cynthia Toussaint lives in Studio City, CA.