Residential Construction Performance Guidelines, Consumer Reference 10PK (Paperback)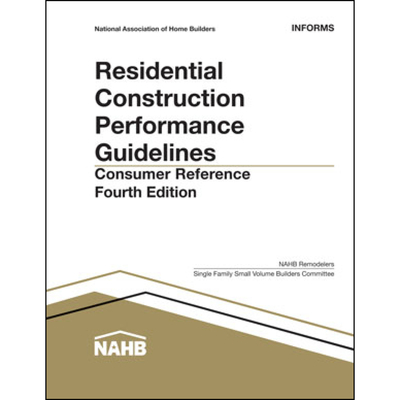 $69.95
Email or call for price
Description
---
*The fourth edition of Residential Construction Performance Guidelines should be used for all contracts written after August 16, 2010. Contracts written prior to August 16, 2010, can still reference the third edition.

NAHB's Residential Construction Performance Guidelines were created to offer a third-party view of quality issues in residential construction (both new homes and remodeling). The Consumer Reference makes it easy to provide a copy of the guidelines to every customer.

Sold in affordable packs of 10, the Consumer Reference is a great addition to your warranty claims process and:
• Helps customers understand the basics of a properly constructed home, warranty, and maintenance items
• Enables you to resolve customer concerns before they escalate into complaints or worse
• Demonstrates that you are a professional who consistently meets or exceeds accepted industry guidelines
Includes Residential Construction Performance Guidelines for:
• Site Work and Foundation
• Floors, Walls, and Roofs
• Plumbing and Electrical, including Interior Climate Control
• Interior and Floor Finishes
• Fireplace and Wood Stove
• Concrete Stoops and Steps
• Garage, Driveways, and Sidewalks
• Wood Decks
• Landscaping
A Glossary and Index are also included.

To build customer satisfaction and boost your bottom line, you'll want to provide a copy of the Consumer Reference with every home you build!

A great tool for critical measure guidance when communicating to employees, independent contractors, suppliers, retailers and homeowners.
-- Jim Trepinski, Fleetwood Homes, Waco, TX

Codes and standards have no guidance on tolerances, fit and finish, and customer expectations vs. realistic construction results. The Residential Construction Performance Guidelines provides a basis to evaluate construction results and resolve disputes between contractors and owners.
-- Charles Coones, Forensic Investigations and Technologies, Knoxville, Tennessee

I give this book to all my home buyers prior to starting construction. This book is very valuable as a reference to proper construction practices for the homeowner and contractor. Without it you will end up doing more extensive repairs than necessary.
-- Shane Chapman, Chapman Custom Homes L.C., Wichita, KS

I have used the guide lines on several occasions. When clients deplete their funds there are always workmanship complaints. The guide has been a strong asset to settle the complaints.
-- Joe Peperone, Peperone Construction L.L.C, Metairie, LA

Save Big with Bulk Orders!
About the Author
---
The National Association of Home Builders is a Washington-based trade association representing more than 140,000 members involved in home building, remodeling, multifamily construction, property management, subcontracting, design, housing finance, building product manufacturing and other aspects of residential and light commercial construction. NAHB is affiliated with 700 state and local home builders associations around the country. NAHB's builder members will construct about 80 percent of the new housing units projected for this year. The Business Management and Information Technology Committee is the leading builder resource for business and construction management, finance, information technology and human resources. Its mission is to improve the skills of NAHB members, develop educational programs, prepare manuals such as the Cost of Doing Business Study, and connect members with experts in areas of accounting and financial management, business administration, sales and marketing, manufacturing and production, and business automation and technology tools. Five subcommittees are dedicated to the key areas within any home building or remodeling business: Building, Operations and Production; Financial Management; General and Administrative; Information Technology Integration and Sales & Marketing.