The Eagle Watchers (Hardcover)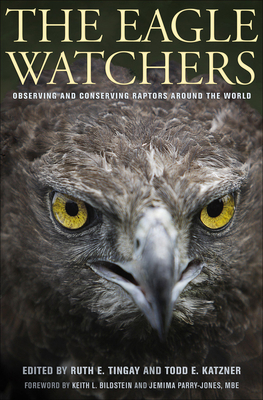 $30.95

Usually Ships in 3-5 Days
Description
---
Eagles have fascinated humans for millennia. For some, the glimpse of a distant eagle instantly becomes a treasured lifelong memory. Others may never encounter a wild eagle in their lifetime. This book was written by people who have dedicated years to the study of eagles, to provide an insider's view for all readers, but especially those who have never been up close and personal with these magnificent yet often misunderstood creatures.In their stories, twenty-nine leading eagle researchers share their remarkable field experiences, providing personal narratives that don't feature in their scientific publications. They tell of their fear at being stalked by grizzly bears, their surprise at being followed by the secret police, their embarrassment when accidentally firing mortar rockets over a school gymnasium, and their sense of awe at tracking eagles via satellite. The reader experiences the cultural shock of being guest of honor at a circumcision ceremony, the absurdity of sharing an aquatic car with the Khmer Rouge, and the sense of foreboding at being press-ganged into a frenzied tribal death march through the jungle. The Eagle Watchers covers twenty-four species on six continents, from well known (bald eagle; golden eagle), to obscure (black-and-chestnut eagle; New Guinea harpy eagle), and from common (African fish eagle) to critically endangered (Philippine eagle; Madagascar fish eagle). The diverse experiences vividly described in this book reveal the passion, dedication, and sense of adventure shared by those who study these majestic birds and strive for their conservation. Featuring stunning color photographs of the eagles, information on raptor conservation, a global list of all eagle species with ranges and conservation status, and a color map of the sites visited in the book, The Eagle Watchers will appeal to birders, conservationists, and adventure travelers alike. To further support the conservation programs described in this book, all royalties are being donated to two leading nonprofit organizations for raptor conservation training and fieldwork: Hawk Mountain Sanctuary Intern Program and the National Birds of Prey Trust.
Contributors: Bill Clark (Solitary Eagle, Mexico); Rob Davies (Verreaux's Eagle, South Africa); Miguel Ferrer (Spanish Imperial Eagle, Spain); Martin Gilbert (New Guinea Harpy Eagle, New Guinea); Justin Grant (White-tailed Sea Eagle, Scotland); Teryl G. Grubb (Bald Eagle, United States); Alan R. Harmata (Bald Eagle, United States); Bj rn Helander (White-tailed Sea Eagle, Sweden); Andrew Jenkins (Martial Eagle, South Africa); Sarah Karpanty (Madagascar Serpent Eagle, Madagascar); Todd E. Katzner (Eastern Imperial Eagle, Kazakhstan); John A. Love (White-tailed Sea Eagle, Scotland); Carol McIntyre (Golden Eagle, United States); Bernd-U. Meyburg (Lesser Spotted Eagle, Czechoslovakia and Germany); Hector C. Miranda Jr. (Philippine Eagle, Philippines); Malcolm Nicoll (Grey-headed Fishing Eagle, Cambodia); Vincent Nijman (Javan Hawk-Eagle, Indonesia); Penny Olsen (Wedge-tailed Eagle, Australia); Keisuke Saito (Steller's Sea Eagle, Japan); Susanne Shultz (African Crowned Eagle, Ivory Coast); Robert E. Simmons (Wahlberg's Eagle, South Africa); Ruth E. Tingay (Madagascar Fish Eagle, Madagascar); Janeene Touchton (Harpy Eagle, Panama); Ursula Valdez (Black-and-chestnut Eagle, Peru); Munir Z. Virani (African Fish Eagle, Kenya); Jeff Watson (Golden Eagle, Scotland); Mark Watson (New Guinea Harpy Eagle, New Guinea); Richard T. Watson (Bateleur, South Africa); Jason Wiersma (White-bellied Sea Eagle, Tasmania)
About the Author
---
Ruth Tingay is a wildlife ecologist and studies eagles in Scotland, Madagascar, Cambodia, the Solomon Islands, and Mongolia. She is the current President of the Raptor Research Foundation. Todd E. Katzner is an Adjunct Assistant Professor at the University of Pittsburgh and at Duquesne University. He studies eagles in Kazakhstan, the Philippines, and the United States. Keith L. Bildstein is Sarkis Acopian Director of Conservation Science at the Acopian Center for Conservation Learning, Hawk Mountain Sanctuary and author of books including Migrating Raptors of the World: Their Ecology and Conservation, also from Cornell. Jemima Parry-Jones, MBE, is director of the International Centre for Birds of Prey and author of books including The Really Useful Owl Guide.