What Would Jesus Eat?: The Ultimate Program for Eating Well, Feeling Great, and Living Longer (Paperback)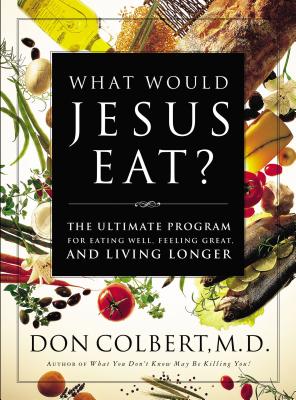 $15.99

Usually Ships in 3-5 Days
Description
---
Though there are many diet programs claiming to be "God's way" to healthy living, and while some of them are based on biblical principles, and even have proven effective for weight loss, What Would Jesus Eat? is the first to note the obvious health benefits of what Jesus ate. In this comprehensive program, Dr. Don Colbert reveals the sensible approach to healthy eating laid out by the ultimate role model. Readers will discover:
Why foods forbidden in the Old Testament are unhealthy
Jesus's favorite foods, including "fast foods" and dessert
The health benefits of foods Jesus ate, and the health risks of foods He avoided
Also included are Dr. Colbert's tools to effectively follow the plan: recipes, nutritional information, and practical advice, including how to follow Jesus's model of eating with foods readily available today.