The Magic of Forests: A Fascinating Guide to Forests Around the World (The Magic of...) (Hardcover)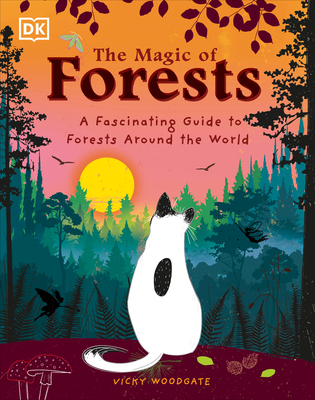 $17.99

Should Be On Our Shelves Now
Description
---
Discover the world of forests, from the inner workings of trees to the legends of ancient woodlands in this magical guide.

What goes on inside a tree? Can trees communicate with each other? Why are rainforests called the lungs of the Earth? What is tree bathing? All these questions and many more are covered in this practical guide to everything there is to know about forests and how important they are to us.

Children aged 7-9 will be led into the depths of forests thousands of years old, and learn about unbelievable natural phenomena, such as the forests that have wandered away from their original homes. As well as the scientific side of forests, this book will delve into the stories people tell about forests, from fairies and the tales of the Brothers Grimm, to fearsome beasts and the real-life historical figures who have explored the most dense and mysterious woodlands.

This magical forest book for children offers:

- Interesting facts, quizzes, activities, and tips all about forests and the natural world. 
- Information on everything you can think of about forests, including science, history, how humans use and need them, and much more.
- Easy-to-read text for children aged 7-9  which includes key vocabulary about the natural world.

The Magic of Forests is perfect for children with an interest in nature, geography, and legends, and anyone who wants to learn all about the science and history behind forests. Author Vicky Woodgate introduces a beautifully-illustrated and informative book to teach your child everything they need to know about forests in this follow up title to the popular The Magic of Sleep and The Magic of Seasons.

At DK, we believe in the power of discovery. 

The Magic of series by DK is a must-have volume for children with a passion for the natural world, weather and geography, or simply those who wish to satisfy their curiosity by learning about the changes in the environment around them. If you enjoyed The Magic of Forests, why not try The Magic of Sleep to learn about the importance of sleep and the science behind dreams, or The Magic of Seasons to learn about the changing seasons in our world.
About the Author
---
Vicky Woodgate has been a commercial illustrator for over 20 years. She has worked around the globe as a scenic artist in the TV, film, and theme-park industries. After 10 years, she moved into publishing, working on newspapers, magazines, books, and advertising. She has written and illustrated The Magic of Sleep and The Magic of Seasons for DK and two books for Big Picture Press: Urban Jungle and A World of Birds. Vicky lives and works in Brighton. Her website is: www.vickywoodgate.com