Pocket Genius: The 50 States: Facts at Your Fingertips (Paperback)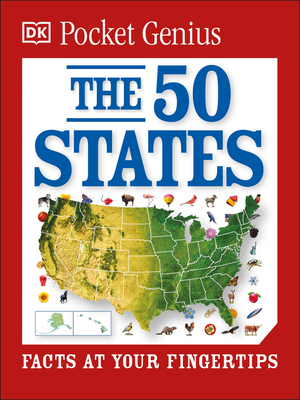 $6.99

Should Be On Our Shelves Now
Description
---
Discover what makes each US state unique in this ultimate pocket-sized guide to the amazing cultures, peoples, places, animals, landmarks, and history of each state.

Which state in the USA has about 100,000 glaciers? Which one boasts the largest national park? Which one is called the Lone Star State? Discover the answers to these intriguing questions and more in this illustrated reference guide to the 50 states of the USA.

Children aged 8-12 can journey across each state in this fact-filled Pocket Genius book - from Hawaii to Florida - to discover what makes the USA special. Stop at each state in this guide to learn about the different peoples who live in it, and find out about its history, geography, natural wonders, animals, cultures, cities, and landmarks. And learn about Washington, DC, which is unlike any US state, and the different overseas territories. 

This children's guide to the US features: 

- All the history, cultures, people, places, and animals that define each US state.
- Divided chapters based on the regions of the USA, with profile pages on the 50 states, Washington, DC, and overseas territories of the country.
- Catalogue-style pages on the states feature captions and images on different characteristics of each state, supported by a state map, a locator showing where it is situated in the country, a panel with data points, and a state flag.
- Information presented in bite-sized chunks for both avid and reluctant readers aged 8–12, supported by photographs and maps that make it fun to explore each state.

Pocket Genius The 50 States features stunning photographs combined with an illustrated map, helpful stats and data, and simple, bite-sized chunks of information to let young readers discover each US state at their own pace. This US states' book for kids also includes a reference section with amazing facts that makes learning fun and entertaining!

The Pocket Genius series is ideal for all children, whether they are young readers beginning to discover facts about the US states or little geniuses who are experts already! 

Complete the Series

This fascinating guide is part of the Pocket Genius range of books for children from DK, so why not check out the other titles in the series, Pocket Genuis Animals, Pocket Genuis Rocks and Minerals, Pocket Genuis Dinosaurs, Pocket Genuis Space and more!
About the Author
---
We believe in the power of discovery. That's why we create books for everyone that explore ideas and nurture curiosity about the world we live in.
 
From first words to the Big Bang, from the wonders of nature to city adventures, you will find expert knowledge, hours of fun and endless inspiration in the pages of our books. 

https://www.dk.com/