Magic Tree House: Books 33-36: #33 Carnival at Candlelight; #34 Season of the Sandstorms; #35 Night of the New Magicians; #36 Blizzard of the Blue Mo (Compact Disc)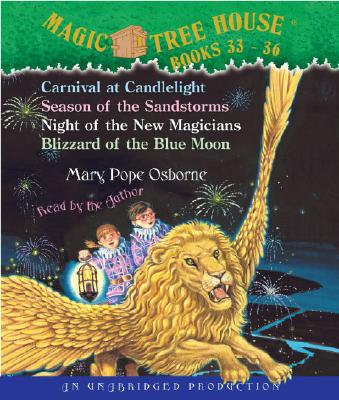 $28.00
Email or call for price
Description
---
Carnival at Candlelight
Merlin has asked Jack and Annie to help on another Merlin Mission. This time they head back into history to Venice, Italy, in the 1700s. With the help of some new friends, a research book, and a mysterious rhyme from Merlin, the heroes will save the beautiful city from a flood Season of the Sandstorms
Armed only with a research book and a book of magic rhymes, Jack and Annie go back 1,200 years to the Golden Age of Baghdad. Their mission is a mystery until bandits attack a camel caravan and Jack and Annie are given a strange box to protect. What's in the box? And how will it help the ruler of Baghdad spread wisdom throughout the world? Night of the New Magicians
A mysterious note from Merlin sends Jack and Annie to Paris, France for the 1889 World's Fair. Their mission: find four "new magicians" and protect them from an evil sorcerer who plans to kidnap them and steal the secrets of their magic. How will they ever find the magicians in the bustling crowd? And will their own magic be any match for the powers of the evil sorcerer?

Blizzard of the Blue Moon
Merlin has sent Jack and Annie to New York City to rescue a beautiful magical creature-the unicorn. Where will they find a unicorn in a big city? And what about the blizzard that's burying New York in snow? Only once in a blue moon do all the right elements come together to make magic in such a special way.
About the Author
---
Mary Pope Osborne is the author of all the Magic Tree House books, as well as American Tall Tales and New York's Bravest for Knopf. The author lives in Goshen, CT.