Emotional Intelligence For Living a Better Life, Becoming Successful at Work, and Experiencing Happier Relationships. Learn and Improve Emotional Agil (Hardcover)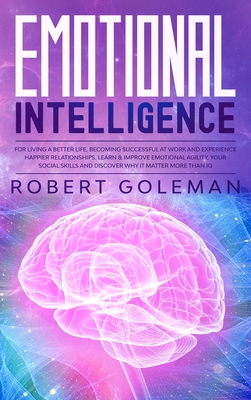 $27.95

Usually Ships in 3-5 Days
Description
---
Unlock the secrets to human nature, learn how to really understand other people and inspire trust with the definitive guide to emotional intelligence
Have you ever been completely taken by surprise by other people's actions and behaviour? Do you have difficulty understanding other people and getting to see the world through their perspective?
If yes, then this guide is just what you need.
In this guide, you'll discover how to improve your emotional intelligence and steer clear of interpersonal conflicts, get people to trust you and just generally make your life easier and free from disagreements.
Here's a small snippet of what you're going to discover in Emotional Intelligence
What Emotional Intelligence really is and the different ways our emotions affect us
Proven ways to build emotional intelligence and learn how to get others to see things your way
How to become self-aware and objectively discover ways to improve yourself
A powerful hack that will help you become emotionally intelligent and attuned to the feelings of others in as little time as possible
12 surefire signs that you or someone you know have a high degree of emotional intelligence
How to be rationally level-headed and manage your emotions in your workplace or business
Powerful ways to apply emotional intelligence to help you set and smash your goals
...and tons more
Filled with profound insights and practical advice, Emotional Intelligence is a guide that will help you confidently navigate interpersonal relationships with ease and flair.