Good Material: A novel (Hardcover)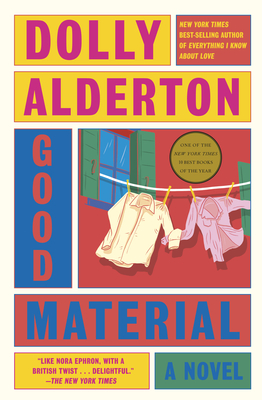 $28.00

Coming Soon - Available for Pre-Order Now
Description
---
From the New York Times best-selling author of Ghosts and Everything I Know About Love: a story of heartbreak and friendship and how to survive both

"One of the foremost 'it' writers of our time . . . Whatever ails you, Alderton can fix it with her intimate wisdom . . . There is no writer quite like Dolly Alderton working today."
—Lisa Taddeo, #1 New York Times best-selling author of Three Women

Andy loves Jen. Jen loved Andy. And he can't work out why she stopped.

Now he is. . .

Without a home

Waiting for his stand-up career to take off

Wondering why everyone else around him seems to have grown up while he wasn't looking

Set adrift on the sea of heartbreak, Andy clings to the idea of solving the puzzle of his ruined relationship. Because if he can find the answer to that, then maybe Jen can find her way back to him. But Andy still has a lot to learn, not least his ex-girlfriend's side of the story…

In this sharply funny and exquisitely relatable story of romantic disaster and friendship, Dolly Alderton offers up a love story with two endings, demonstrating once again why she is one of the most exciting writers today, and the true voice of a generation.
About the Author
---
DOLLY ALDERTON is an award-winning author, screenwriter and journalist based in London. She is a columnist for the Sunday Times Style magazine and has also written for GQ, Red, Marie Claire, and Grazia. She is the former co-host and co-creator of the podcast The High Low. Her books include Ghosts, Dear Dolly, and Everything I Know About Love, which was a New York Times best seller, won a National Book Award (UK) for Autobiography of the Year and was made into a TV series.
Praise For…
---
"With distinct notes of Helen Fielding, Richard Curtis and Nick Hornby....Warm and generous....Alderton captures the myopia and obsessiveness that sudden heartbreak can bring, using both satire and compassion....A writer very much in control of her material."
—Michael Donkor, The Guardian

"Genuinely laugh-out-loud funny—with characters straight out of a Richard Curtis film (the elderly lodger who's prepping for doomsday is a highlight)—whipsmart dialogue and relatable millennial themes (Alderton's forte) mean there's never a dull moment. Despite it being a pleasingly easy read (we tore through it in a single day), Good Material still manages to be thought-provoking and wise."
–The Independent (UK)

"Have you ever wondered what a lost love was thinking? In this ingeniously constructed and endlessly amusing novel, Dolly Alderton flips the script on everything we think we know about romantic loss, to bring us an unforgettable character on a deeply relatable downward spiral. Wise and relatable and pee-your-pants funny. I cried by page 5. Dolly Alderton is, quite simply, the bard of modern-day love."
—Lena Dunham

"Dolly Alderton has always been a sparkling Roman candle of talent. She is funny, smart and explosively engaged in the wonders and weirdness of the world."
 —Elizabeth Gilbert, New York Times best-selling author of City of Girls

"It's so good. I loved it." 
—Sharon Horgan
 
"Wickedly funny and, at turns, both cynical and sincere, Dolly Alderton's voice feels like your very favorite friend."
—Taylor Jenkins Reid, #1 New York Times best-selling author of Carrie Soto is Back

"One of the foremost 'it' writers of our time . . . Whatever ails you, Alderton can fix it with her intimate wisdom . . . There is no writer quite like Dolly Alderton working today and very soon the world will know it."
 —Lisa Taddeo, #1 New York Times best-selling author of Three Women

"The male perspective is rarely the focus in romantic comedy, but Dolly Alderton's new novel corrects the imbalance… Relatable, funny and refreshing."
—Elle (UK)

"Like so many twentysomething women, I have turned to Dolly Alderton's writing for solace… Written from the perspective of someone recently heartbroken, but this time it's a man… The detail is luscious… Radical."
—Annie Lord, The Sunday Times (UK)

"Alderton is excellent at fusing poignant tenderness with wry observations about modern life, and that talent is on full display here.  Good Material is a highly enjoyable exploration of the messy, non-binary nature of many break-ups, and how two people can simply make a terrible couple."
—Stylist Magazine

"Alderton absolutely nails it...beautifully nuanced portrayal of modern love that will have you racing to the last page."
—Heat Magazine

"[A] book to be devoured, adored, underlined, and passed on (but only to the friends you know will give it back)… Alderton explores friendships beautifully, probing the anxieties around being left behind while other friends reach milestones, and the bittersweet pain of seeing a friend's career soar while your own is flailing… Good Material showcases Alderton's knack for rich characterisation and zippy dialogue like never before. It is also not just a shrewd portrayal of lost love, it is genuinely funny—if only more books made you laugh as much as this."
—iNews