The Hormone Healing Cookbook: 80+ Recipes to Balance Hormones and Treat Fatigue, Brain Fog, Insomnia, and More (Paperback)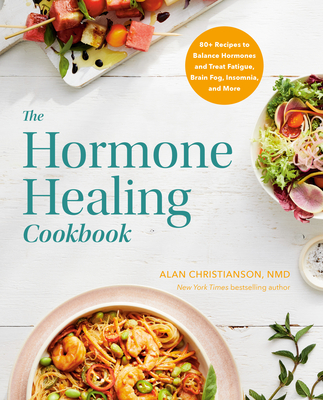 $24.00

Usually Ships in 3-5 Days
Description
---
Discover cutting-edge dietary solutions to hormone imbalances with 80 recipes to help reverse hormonal weight gain, fatigue, insomnia, and more, from the integrative physician and New York Times bestselling author of The Adrenal Reset Diet.
Much of our everyday well-being is contingent on our hormones. As hormones change from lifestyle, diseases, and aging, so too does quality of life. The top five symptoms of hormone imbalance include weight gain, fatigue, hot flashes, brain fog, and insomnia. Thankfully, the right foods can help regulate and heal your hormones. With eighty recipes, photos, and dietary solutions geared towards alleviating these symptoms along with boosting your metabolism,
The Hormone Healing Cookbook
will help you choose the best foods for you, returning your body to a state of balance.
Learn which foods to incorporate into your diet to fight:
Insomnia: Mushrooms, walnuts, and black rice
Brain fog: Oats, blueberries, leafy greens, and basil
Fatigue: Beets, ginger, pumpkin, and navy beans
Hot flashes: Broccoli, soy, figs, and flax
Weight gain: Potatoes, yogurt, fish, and onion
Dr. Christianson will help you tailor the best meal plan for your body and hormone levels so that you can start feeling better in just a few weeks.
About the Author
---
Alan Christianson, NMD, author of the New York Times bestsellers The Adrenal Reset Diet, The Metabolism Reset Diet, and The Thyroid Reset Diet, is a naturopathic medical doctor who specializes in natural endocrinology with a focus on thyroid disorders. He founded Integrative Health, a physician group dedicated to helping people with thyroid disease and weight-loss resistance regain their health. He has been named a Top Doctor in Phoenix magazine and has appeared on national TV shows and in numerous print media. Dr. Christianson lives in Phoenix with his wife and their two children.
Praise For…
---
"Dr. Alan Christianson has created a breakthrough plan proving that simple, natural foods will reverse troublesome hormone symptoms and enhance brain function. These recipes are not only delicious and packed with essential healing nutrients, but they will also appeal to your family and friends. I highly recommend this must-addition to any natural cookbook collection."—Steven Masley, MD, FAHA, FACN, CNS, bestselling author of The 30-Day Heart Tune-Up

"If you are looking for a natural, food-based approach to begin addressing hormonal symptoms, Dr. Alan Christianson has a new cookbook just for you. Over the years, I've trusted Dr. Christianson to share the best-quality evidence in a way that can improve health."—Sara Gottfried, MD, four-time New York Times bestselling author of The Hormone Cure

"Countless people struggle with hormonal symptoms like weight gain, fatigue, hot flashes, insomnia, and brain fog. Dr. Alan Christianson has a brand-new set of safe solutions in the form of tasty recipes."—Izabella Wentz, PharmD, FASCP, New York Times bestselling author of Hashimoto's Protocol

"Your hormones are literally made and controlled by the foods that you eat. Not only can food be medicine, but it also can be used to help specific hormonal symptoms. The Hormone Healing Cookbook will show you how to use delicious recipes to help you unlock better health."—Shawn Stevenson, bestselling author of Eat Smarter and Sleep Smarter

"This cookbook shares clear science about how phytonutrients in foods improve the body's hormone regulation."—JJ Virgin, CNS, CHFS, celebrity nutrition and fitness expert, and New York Times bestselling author of The Virgin Diet and The Sugar Impact Diet

"Hormones have a huge impact on our energy, mood, weight, brain function, and sleep. Are you using food to influence those key hormones? You should be! This is an indispensable practical cookbook packed full of simple strategies to positively impact your hormones."—Ari Whitten, MS, bestselling author of The Ultimate Guide to Red Light Therapy and Eat for Energy

"The Hormone Healing Cookbook is a great resource for anyone who would like some more healthy recipes or would like to improve their weight or energy levels. Dr. Christianson shares exciting science about how foods and hormones are interconnected."—Dr. Trevor Cates, bestselling author of Natural Beauty Reset and Clean Skin from Within

"As a doctor who focuses on hormones and the endocrine system, I'm thrilled to have The Hormone Healing Cookbook as a healthy resource. Dr. Christianson has done an amazing job explaining those common, annoying symptoms while providing phytonutrient-rich recipes to help."—Carrie Jones, ND, FABNE, MPH, head of medical education at Rupa Health

"The Hormone Healing Cookbook is a great resource for anyone who would like some more healthy recipes or would like to improve their weight or energy levels."—Dr. Gabrielle Lyon, founder of the Institute for Muscle-Centric Medicine