Prepping Like A Pro: Escape the Chaos (Paperback)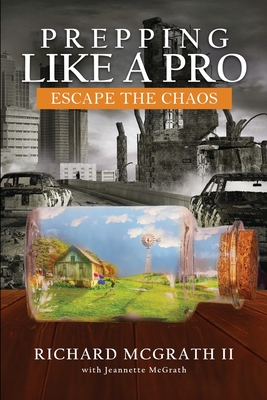 Description
---
BEWARE The survival and prepping industry is full of bad advice, myths, and confusion.
Do you have a shelf full of canned goods but don't know what else you need? Have you been prepping for years but feel like you are missing something? You are not alone Modern families have realized they are not prepared to survive for even two weeks without scrambling for supplies, let alone endure the chaos of a social/economic collapse.
Applauded Retreat Consultant, Richard McGrath, overcomes the largest obstacle in prepping (utter confusion ) with his layered approach and simple, conversational explanations. Hired to see inside private homes and refine emergency stockpiles, he gives valuable insight into what most people do WRONG By answering the most common questions, he helps you get it right the first time, or resolve mistakes you've already made.
Beginning and veteran preppers alike appreciate the clarity in this must-have guide.
- McGrath dispels rampant myths found in many prepping resources - Did you know peanut butter goes bad relatively quickly and is NOT a good item for long term food storage?
- He takes the mystery out of the elusive Bug-Out-Bag concept.
- As an accomplished gunsmith, he approaches the complex and controversial subject of firearms by narrowing down the choices to just a few recommendations.
- He covers basic needs such as shelter, water, and supplies, as well as less-understood subjects that are commonly forgotten in survivalist resources.
Being prepared for an unforeseen disaster of one extreme or another is always a responsible choice. Prepping Like a Pro gives a complete foundation to this debated topic. Presented in a non-technical, common-sense fashion, it takes the guesswork, confusion, and chaos out of the process.
If you want a solid roadmap to self-reliance, you've found it