The Seven Principles for Making Marriage Work: A Practical Guide from the Country's Foremost Relationship Expert (Paperback)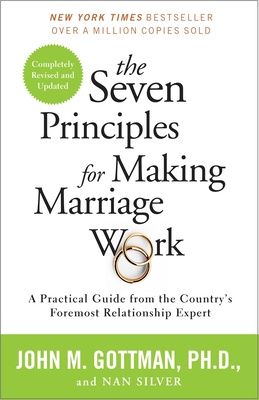 $17.99

Usually Ships in 3-5 Days
Description
---
NEW YORK TIMES BESTSELLER • Over a million copies sold! "An eminently practical guide to an emotionally intelligent—and long-lasting—marriage."—Daniel Goleman, author of Emotional Intelligence

The Seven Principles for Making Marriage Work has revolutionized the way we understand, repair, and strengthen marriages. John Gottman's unprecedented study of couples over a period of years has allowed him to observe the habits that can make—and break—a marriage. Here is the culmination of that work: the seven principles that guide couples on a path toward a harmonious and long-lasting relationship.
 
Straightforward yet profound, these principles teach partners new approaches for resolving conflicts, creating new common ground, and achieving greater levels of intimacy. Gottman offers strategies and resources to help couples collaborate more effectively to resolve any problem, whether dealing with issues related to sex, money, religion, work, family, or anything else.
 
Packed with new exercises and the latest research out of the esteemed Gottman Institute, this revised edition of The Seven Principles for Making Marriage Work is the definitive guide for anyone who wants their relationship to attain its highest potential.
About the Author
---
JOHN GOTTMAN, a leading research scientist on marriage and family, is emeritus professor of psychology at the University of Washington; executive director of his laboratory, the Relationship Research Institute; and cofounder of the Gottman Institute. He held an NIMH research scientist career award for twenty years. Dr. Gottman is the author of more than two hundred professional journal articles and forty-two books, as well as the recipient of numerous prestigious awards for his extensive contributions to marriage and family research.

NAN SILVER is a former editor in chief of Health magazine and coauthor, with Dr. Gottman, of What Makes Love Last: and Why Marriages Succeed or Fail.


Praise For…
---
"An eminently practical guide to an emotionally intelligent -- and long-lasting -- marriage."        
-- Daniel Goleman, author of Emotional Intelligence

"Gottman stays refreshingly down to earth, rather than on Mars and Venus."
-- Bill Marvel and Geoffrey Norman, American Way

"Gottman comes to this endeavor with the best of qualifications: he's got the spirit of a scientist and the soul of a romantic."        
-- Newsweek

"Twenty-five years of landmark marital research."
-- USA Today

"Offers something every relationship can benefit from."
-- Seattle Post-Intelligencer

"Astonishing new research!"
-- Woman's World

"Debunks many myths about divorce . . . reveals surprising facts . . . enlightening!"
-- Amazon.com