Midnight's Furies: The Deadly Legacy of India's Partition (Hardcover)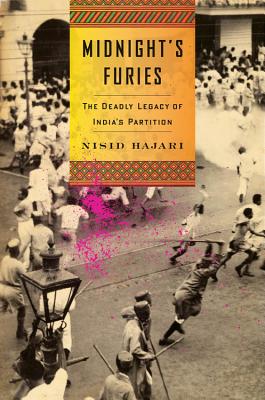 Description
---
Named one of the best books of 2015 by NPR, Amazon, Seattle Times, and Shelf Awareness

A  few bloody months in South Asia during the summer of 1947 explain the world that troubles us today.

Nobody expected the liberation of India and birth of Pakistan to be so bloody — it was supposed to be an answer to the dreams of Muslims and Hindus who had been ruled by the British for centuries. Jawaharlal Nehru, Gandhi's protégé and the political leader of India, believed Indians were an inherently nonviolent, peaceful people. Pakistan's founder, Mohammad Ali Jinnah, was a secular lawyer, not a firebrand.  But in August 1946, exactly a year before Independence, Calcutta erupted in street-gang fighting. A cycle of riots — targeting Hindus, then Muslims, then Sikhs — spiraled out of control. As the summer of 1947 approached, all three groups were heavily armed and on edge, and the British rushed to leave. Hell let loose. Trains carried Muslims west and Hindus east to their slaughter. Some of the most brutal and widespread ethnic cleansing in modern history erupted on both sides of the new border, searing a divide between India and Pakistan that remains a root cause of many evils. From jihadi terrorism to nuclear proliferation, the searing tale told in Midnight's Furies explains all too many of the headlines we read today.
About the Author
---
NISID HAJARI is the Asia editor for Bloomberg View. Prior to Bloomberg, he spent a decade at Newsweek as Asia editor, foreign editor, and eventually coeditor at the top of the masthead. He has appeared frequently as a commentator on foreign affairs on NPR, NBC, and CNN, and is a member of the Council on Foreign Relations.
Praise For…
---
An NPR Best Book of 2015
•
An Amazon Best Book of 2015: History
•
A Seattle Times  Best Book of 2015
•
A Shelf Awareness Best Book of 2015Finalist for the Tata Literature Live! First Book Award
"[A] fast-moving and highly readable account of the violence that accompanied that partition…In its finest moments,
Midnight's Furies
is the story of what happens when a composite society comes apart."
–
The New York Times Book Review
 "[A]n engaging and incisive contribution to the vast literature on partition and its aftermath. Mr. Hajari writes with grace, precision and an unerring eye for detail. 'Midnight's Furies' is the best of recent offerings."
–Wall Street Journal
"A pacey new narrative history of Partition which makes the complex and tragic story of the great divide into a pageturner: no mean feat."
–Guardian,  Best Summer Reads 2015
 "A clear, accessible and compelling account of the events during partition… gifted storytelling. It is through his vivid description of small moments that Mr Hajari transforms an overwhelming event into an intimate experience...a gripping, skillfully crafted account of an awful period of South Asian history. It deserves a wide audience."
–
The Economist
 "It has often been said that this is the golden age of nonfiction books. As if to prove the validity of that statement, Nisid Hajari has offered us
Midnight's Furies
, a compelling read, both dramatic and suspenseful . . . With the sensibilities of a novelist, Hajari artfully draws portraits of the various historical personalities involved, making the book thoroughly engaging."
–Seattle Times
"Hajari explores the roots of this tension in a beautifully written, deeply intelligent book about that crucial moment when Britain once again drew bad borders with calamitous consequences."
–
Fareed Zakaria, CNN
 "[A] fast-paced new narrative history of partition and its aftermath . . . One of [the book's] virtues is its more balanced portrait of Jinnah."
–William Dalrymple, The New Yorker
"Hajari's book is a superb and highly readable account of not just the mayhem, but the political machinations that preceded Partition, including the three-way negotiations between Britain and the leaders of what were to become India and Pakistan."
–
The New York Review of Books
"Hajari offers a ringside view of history with compelling psychological portrayals of those who made it . . . The politics of 1947-48 is so chillingly contemporary that it induces a sense of deja vu."
–Times of India

"[Hajari] has a riveting story to tell and he tells it well . . . The strength of this book is in its narrative, its marshalling of facts, and its objectivity in presenting them . . . And Hajari's fine ear for dialogue seldom lets him down."
–The Wire (India)

"[Hajari] frames the events surrounding Partition like a Greek tragedy, with epic, larger-than-life figures . . . [He] succeeds in vividly depicting the psychological scars that have dogged Pakistan and India."
–Shelf Awareness

"A well-researched tale of the last years of colonial rule on the Subcontinent . . . We could well be in the midst of a deadly thriller; Hajari maintains a tension that would please a novelist."
–Open

"Ideal . . . An authentic account of what led to partition and its riots . . . The research is impeccable."
–Business Standard

"This harrowing tale of political miscalculation and misunderstanding is recommended for all readers of history, politics, and current affairs."
–Library Journal
"A fine unwinding of an epic event." 
–Booklist
"Hajari skillfully picks through this perilous history...A carefully restrained and delineated account makes for chilling reading." 
–Kirkus

"Pakistan is perhaps the world's most dangerous country — a combustible mix of nuclear weapons, jihadis, bloody borders, and a dysfunctional state. You can only truly understand the country by going to its roots. Nisid Hajari does just that in this powerful, intelligent, and beautifully-written book. He finds in India's partition and its aftermath mistakes, compromises, and cowardice as well as all the ideology, venom, and violence that have now erupted onto the global stage. Hajari presents the history like a detective story and you will be swept along. Except in this case, none of us knows how it will end." 
–Fareed Zakaria, author of The Post-American World

"History is about grand cultural and geographical forces within which individual leaders must, nevertheless, take moral responsibility for better and worse outcomes. Nisid Hajari's meticulous study of India's birth captures this dichotomy brilliantly." 
–Robert D. Kaplan, author of Monsoon: The Indian Ocean and the Future of American Power
"India's partition in 1947 was a traumatic event unparalleled in its human toll since World War II. Its legacy continues to haunt both India and Pakistan and threaten global security. Yet the train of events that culminated in the paroxysm of violence and partition have remained shrouded in mystery. Midnight's Furies relies on fresh historical sources to go beyond the familiar debate about why Hindus and Muslims were at odds over the future of India, and shows how decisions by leaders reacting to unfolding events sealed the fate of united India and produced the cycle of violence that forever marked the peoples and governments of the region. Well-researched and eminently readable, this haunting account puts into the proper perspective both history and current events." 
–Vali Nasr, author of The Shia Revival and The Dispensable Nation
"Nisid Hajari brings new research, deep involvement, and a keen intelligence to write a history that brings so many people to life and will have you sitting on the edge of your seat. Today, with Pakistan facing unprecedented extremist violence and a hardline right wing government in New Delhi that wants no dialogue with Islamabad, we could be on the brink of more furies being unleashed. A must read."
–Ahmed Rashid, author of Pakistan on the Brink and Taliban

"The Partition of British-ruled India in 1947 was a momentous event in world history, which has impacted the war on terror as well as the politics and economy of Asia to a degree that is still not fully understood. Nisid Hajari's book illuminates it with a rare political acuity, narrative verve and stylistic elegance. Unravelling canonized reputations and highlighting obscure ones, he shows how a large part of humanity came into its political inheritance, and the wounds this violent process left on the body-politic of India and Pakistan. Anyone wondering how nuclear-armed South Asia came to be vulnerable to religious extremism will find clear and profound answers here."
–Pankaj Mishra, author of From the Ruins of Empire
 
Coverage from NPR