The Evening and the Morning (Kingsbridge #4) (Hardcover)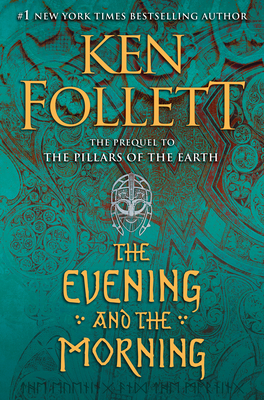 $36.00

Usually Ships in 3-5 Days
Other Books in Series
This is book number 4 in the Kingsbridge series.
Description
---
#1 New York Times Bestseller
An Amazon Best Book of 2020
 
The thrilling and addictive prequel to The Pillars of the Earth--set in England at the dawn of a new era: the Middle Ages

"Just as transporting as [The Pillars of the Earth] . . . A most welcome addition to the Kingsbridge series." --The Washington Post

It is 997 CE, the end of the Dark Ages. England is facing attacks from the Welsh in the west and the Vikings in the east. Those in power bend justice according to their will, regardless of ordinary people and often in conflict with the king. Without a clear rule of law, chaos reigns.

In these turbulent times, three characters find their lives intertwined. A young boatbuilder's life is turned upside down when his home is raided by Vikings, forcing him and his family to move and start their lives anew in a small hamlet where he does not fit in. . . . A Norman noblewoman marries for love, following her husband across the sea to a new land, but the customs of her husband's homeland are shockingly different, and it soon becomes clear to her that a single misstep could be catastrophic. . . . A monk dreams of transforming his humble abbey into a center of learning that will be admired throughout Europe. And each in turn comes into dangerous conflict with a clever and ruthless bishop who will do anything to increase his wealth and power.

Thirty years ago, Ken Follett published his most popular novel, The Pillars of the Earth. Now, Follett's masterful new prequel The Evening and the Morning takes us on an epic journey into a historical past rich with ambition and rivalry, death and birth, love and hate, that will end where The Pillars of the Earth begins.
About the Author
---
Ken Follett is one of the world's best-loved authors, selling more than 170 million copies of his thirty-six books. Follett's first bestseller was Eye of the Needle, a spy story set in the Second World War. In 1989, The Pillars of the Earth was published and has since become Follett's most popular novel. It reached number one on bestseller lists around the world and was an Oprah's Book Club pick. Its sequels, World Without End and A Column of Fire, proved equally popular, and the Kingsbridge series has sold more than forty million copies worldwide. Follett lives in Hertfordshire, England, with his wife, Barbara. Between them they have five children, six grandchildren, and two Labradors.
Praise For…
---
"[A] richly told, complex story . . . Follett is a powerful storyteller . . . [whose] fans will enjoy this jaunt through the days before England was merry."
—Kirkus (starred)

"Follett has done it again. Readers will gobble up this exciting prequel."
—Library Journal

"[An] absorbing and lengthy saga of life in a chaotic and unstable England on the cusp of the Middle Ages . . . Fans of Follett's ever-popular Kingsbridge series . . . will flock to this . . . while intrigued newcomers can start here."
—Booklist

"Follett vividly re-creates the ancient era . . . in this feast for his fans."
—AARP

Praise for Ken Follett and the Kingsbridge series

"The Kingsbridge books . . . are swift, accessible and written in a clear, uncluttered prose that has a distinctly contemporary feel. . . . Follett presents his worlds in granular detail, but the narratives never stand still. Something dramatic, appalling or enraging happens in virtually every chapter. . . . The result is a massive entertainment that illuminates an obscure corner of British history with intelligence and great narrative energy."
—The Washington Post

"Follett takes you to a time long past with brio and razor-sharp storytelling. An epic tale in which you will lose yourself."
—The Denver Post

"[Follett is a] master of the sweeping, readable epic."
—The Philadelphia Inquirer

"Follett is a master." 
—The Washington Post