A Column of Fire (Kingsbridge #3) (Hardcover)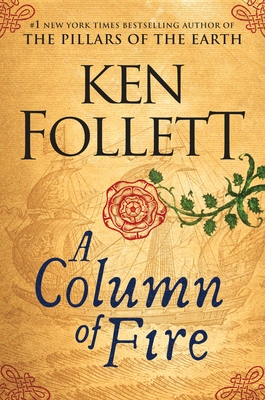 $36.00

Usually Ships in 3-5 Days
Other Books in Series
This is book number 3 in the Kingsbridge series.
Description
---
#1 New York Times Bestseller

"Absorbing . . . impossible to resist." —The Washington Post

As Europe erupts, can one young spy protect his queen? Ken Follett takes us deep into the treacherous world of powerful monarchs, intrigue, murder, and treason with his magnificent epic, A Column of Fire—the chronological latest in the Kingsbridge series, following The Pillars of the Earth, World Without End, and the prequel, The Evening and the Morning.

In 1558, the ancient stones of Kingsbridge Cathedral look down on a city torn apart by religious conflict. As power in England shifts precariously between Catholics and Protestants, royalty and commoners clash, testing friendship, loyalty, and love. 
 
Ned Willard wants nothing more than to marry Margery Fitzgerald. But when the lovers find themselves on opposing sides of the religious conflict dividing the country, Ned goes to work for Princess Elizabeth. When she becomes queen, all Europe turns against England. The shrewd, determined young monarch sets up the country's first secret service to give her early warning of assassination plots, rebellions, and invasion plans. Over a turbulent half century, the love between Ned and Margery seems doomed as extremism sparks violence from Edinburgh to Geneva. Elizabeth clings to her throne and her principles, protected by a small, dedicated group of resourceful spies and courageous secret agents.
 
The real enemies, then as now, are not the rival religions. The true battle pitches those who believe in tolerance and compromise against the tyrants who would impose their ideas on everyone else—no matter what the cost.
 
Exciting and ambitious, and set during one of the most turbulent and revolutionary times in history, A Column of Fire will delight longtime fans of the Kingsbridge series and serve as the perfect introduction for readers new to Ken Follett.
About the Author
---
Ken Follett is one of the world's best-loved authors, selling more than 160 million copies of his thirty books. Follett's first bestseller was Eye of the Needle, a spy story set in the Second World War.
 
In 1989 The Pillars of the Earth was published and has since become Follett's most popular novel. It reached number one on bestseller lists around the world and was an Oprah's Book Club pick.
 
Its sequel, World Without End, proved equally popular and the Kingsbridge series has sold 38 million copies worldwide.
 
Follett lives in Hertfordshire, England, with his wife Barbara. Between them they have five children, six grandchildren, and three Labradors.
Praise For…
---
Recommended reading by * The Washington Post * USA Today * New York Post * The Christian Science Monitor * The Philadelphia Inquirer *

"Deeply researched . . . compelling . . . A Column of Fire is absorbing, painlessly educational, and a great deal of fun."
—The Washington Post
 
"Follett's historical epics, including this one, evoke the Romantic adventures of Alexandre Dumas. Derring-do and double-crosses . . . A Column of Fire burns bright throughout."
—The Christian Science Monitor

"Full of adventure and suspense, A Column of Fire is an inspiring and thrilling portrait of one of Europe's most perilous times in history."
—BookPage

"Fans of Follett's epic sagas The Pillars of the Earth and World Without End, set in the Middle Ages in the fictional city of Kingsbridge, will be thrilled by this latest installment."
—New York Post
 
"[Follett is a] master of the sweeping, readable epic."
—The Philadelphia Inquirer

"English-history mavens will find much to savor in Follett's third Kingsbridge novel."
—AARP The Magazine
 
"A fiery tale set in the latter half of the sixteenth century . . . As always, Follett excels in historical detailing, transporting readers back in time with another meaty historical blockbuster."
—Booklist
 
"An immersive journey through the tumultuous world of 16th century Europe and some of the bloodiest religious wars in history. Follett's sprawling novel is a fine mix of heart-pounding drama and erudite historicism."
—Publishers Weekly