The Violin Concerti and the Sinfonia Concertante, K.364, in Full Score (Dover Music Scores) (Paperback)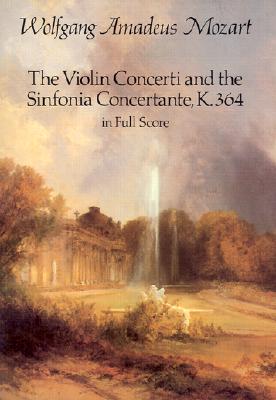 Description
---
Written in the year 1775, Mozart's lively violin concerti manifest the young composer's astonishing maturity and command of his craft. An "incredible fluency of musical speech ... richness of texture and sheer beauty of melodic line pervade this music" (Veims, The Concertos). Indeed, the concerti are the composer's earliest compositions that have maintained a secure position in the world's repertoire.
Also a staple of the concert hall is the Sinfonia Concertante, K.364, composed in 1779, and scored for violin, viola, and orchestra. Undoubtedly the most significant work Mozart composed that year, the piece is distinguished by its symphonic sweep, advanced harmonies, and the beautiful slow movement, among Mozart's most moving creations.
Now all six masterpieces are available in this convenient, inexpensive edition.
Concerto for Violin and Orchestra in B-flat Major, K.207
Concerto for Violin and Orchestra in D Major, K.211
Concerto for Violin and Orchestra in G Major, K.216
Concerto for Violin and Orchestra in D Major K.218
Concerto for Violin and Orchestra in A Major, K.219
Sinfonia Concertante in E-flat Major, K.364
Essential to the repertoire of every serious violinist, and reproduced directly from the authoritative Breitkopf & H rtel Complete Works edition, these celebrated compositions offer a wealth of challenge and inspiration to musicians and further incontrovertible evidence of Mozart's multifaceted genius.

About the Author
---
A child prodigy who blossomed into the Classical era's most influential composer, Wolfgang Amadeus Mozart (1756-91) wrote more than 600 works in his brief life. His oeuvre encompasses a wide variety of genres, including symphonic, chamber, operatic, and choral music.