When Food Is Love: Exploring the Relationship Between Eating and Intimacy (Paperback)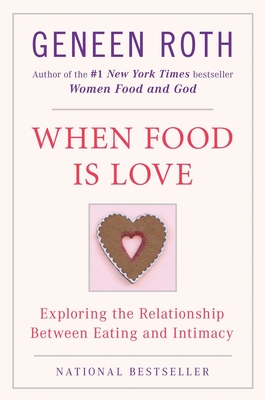 $17.00

Usually Ships in 3-5 Days
Description
---
#1 New York Times bestselling author of Women Food and God"A life-changing book."—Oprah
In this moving and intimate book, Geneen Roth, bestselling author of Feeding the Hungry Heart and Breaking Free from Compulsive Eating, shows how dieting and emotional eating often become a substitute for intimacy. Drawing on her own painful personal experiences, as well as the candid stories of those she has helped in her seminars, Roth examines the crucial issues that surround emotional eating: need for control, dependency on melodrama, desire for what is forbidden, and the belief that one wrong move can mean catastrophe. She shows why many people overeat in an attempt to satisfy their emotional hunger, and why weight loss frequently just uncovers a new set of problems. But her welcome message is that change is possible. This book will help readers break destructive, self-perpetuating patterns and learn to satisfy all the hungers—physical and emotional—that make us human.
About the Author
---
Geneen Roth is a writer and a teacher who has gained international prominence through her work in the field of eating disorders. She is the founder of the Breaking Free workshops, which she has conducted nationwide since 1979. She is also the author of Feeding the Hungry Heart, Breaking Free from Compulsive Eating, and When Food is Love. A frequent guest on television and radio programs, she has written for and been featured in Tie, Ms., New Woman, Family Circle, and Cosmopolitan. Her poetry and short stories have been published in numerous anthologies. Born in New York City, she now lives in northern California.
Praise For…
---
"A life-changing book."
—Oprah
"A rare and special book that touches our inner selves with extraordinary courage, authenticity, and beauty. I have seen very few books with this kind of clarity and human depth. It will move you to tears and to joy. It will entertain and delight you, and it will make you a deeper and more compassionate human being."
—John Robbins, author of Diet for a New America
"SPECTACULAR! I laughed and I cried. . . a tender and daring book that you'll never forget."
—Laura Davis, co-author of The Courage to Heal
"I SEE MIRACLES IN MY LIFE EVERY DAY, AND ROTH IS ONE OF THE PEOPLE WHO HELPED MAKE THAT HAPPEN."
—Anne Lamott in Mademoiselle
"When Food is Love is Roth's seminal work. This is a big, beautiful, and important book. I cannot say enough about it. I hope everyone reads it."
—Natalie Goldberg, author of Writing Down the Bones
"She tells of her own experiences with a non-blink frankness cushioned by the gracefulness of her prose."
—Chicago Tribune
"This book is A) good enough to eat, B) nourishing to the heart."
—Jack Kornfield, Buddhist teacher, co-author of Seeking the Heart of Wisdom