The Pillars of the Earth (Kingsbridge #1) (Hardcover)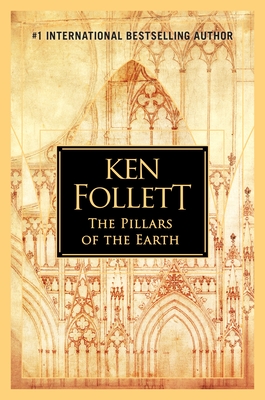 $45.00

Usually Ships in 3-5 Days
Other Books in Series
This is book number 1 in the Kingsbridge series.
Description
---
#1 New York Times Bestseller

Oprah's Book Club Selection

The "extraordinary . . . monumental masterpiece" (Booklist) that changed the course of Ken Follett's already phenomenal career—and begins where its prequel, The Evening and the Morning, ended.

"Follett risks all and comes out a clear winner," extolled Publishers Weekly on the release of The Pillars of the Earth. A departure for the bestselling thriller writer, the historical epic stunned readers and critics alike with its ambitious scope and gripping humanity. Today, it stands as a testament to Follett's unassailable command of the written word and to his universal appeal. 
 
The Pillars of the Earth tells the story of Philip, prior of Kingsbridge, a devout and resourceful monk driven to build the greatest Gothic cathedral the world has known . . . of Tom, the mason who becomes his architect—a man divided in his soul . . . of the beautiful, elusive Lady Aliena, haunted by a secret shame . . . and of a struggle between good and evil that will turn church against state and brother against brother.
 
A spellbinding epic tale of ambition, anarchy, and absolute power set against the sprawling medieval canvas of twelfth-century England, this is Ken Follett's historical masterpiece.
About the Author
---
Ken Follett is one of the world's best-loved authors, selling more than 160 million copies of his thirty books. Follett's first bestseller was Eye of the Needle, a spy story set in the Second World War. 

In 1989 The Pillars of the Earth was published, and has since become the author's most successful novel. It reached number one on bestseller lists around the world and was an Oprah's Book Club pick.
 
Its sequels, World Without End and A Column of Fire, proved equally popular, and the Kingsbridge series has sold 38 million copies worldwide.
 
Follett lives in Hertfordshire, England, with his wife Barbara. Between them they have five children, six grandchildren, and three Labradors.
Praise For…
---
"Follett is a master." —The Washington Post

"Wonderful . . . will hold you, fascinate you, surround you." —Chicago Sun-Times

"A towering tale . . . a ripping read. . . . There's murder, arson, treachery, torture, love, and lust." —The New York Daily News
"Ken Follett takes a giant step." —San Francisco Chronicle

"Enormous and brilliant . . . a great epic tale . . . crammed with characters unbelievably alive across the great gulf of centuries . . . touches all human emotion—love and hate, loyalty and treachery, hope and despair. See for yourself. This is truly a novel to get lost in." —Cosmopolitan 

"With this book, Follett risks all and comes out a clear winner . . . a historical novel of gripping readability, authentic atmosphere, and memorable characterization. Beginning with a mystery that casts its shadow, the narrative is a seesaw of tension, suspense, impeccable pacing . . . action, intrigue, violence, passion, greed, bravery, dedication, revenge, and love. A love that entertains, instructs, and satisfies on a grand scale." —Publishers Weekly

"An extraordinary epic buttressed by suspense . . . a mystifying puzzle involving the execution of an innocent man . . . the erection of a magnificent cathedral . . . romance, rivalry, and spectacle. A monumental masterpiece . . . a towering triumph from a major talent." —Booklist